Guns, prostitution, rape, drugs, child abuse and domestic violence. These are the everyday horrors going on inside an Argentine slum. Colombian Valeria Aboleda who lives in the 'villa' with her partner Carlos told Buenos Aires Street Art how she hopes street art can change the lives of the people living there.
Residents in Fabrica Finchietto
"This is a neighbourhood that has been lived in like a ghetto," said Valeria. "All the illegal jobs are done here. We have gun-selling, drug-selling, prostitution, we have lots of single mothers, lots of violence is being experienced here." Valeria told us she is striving to improve the lives of some 3,000 people who are living in a former textile factory in the barrio of Parque Patricios, through a street art project called Proyecto Finokio.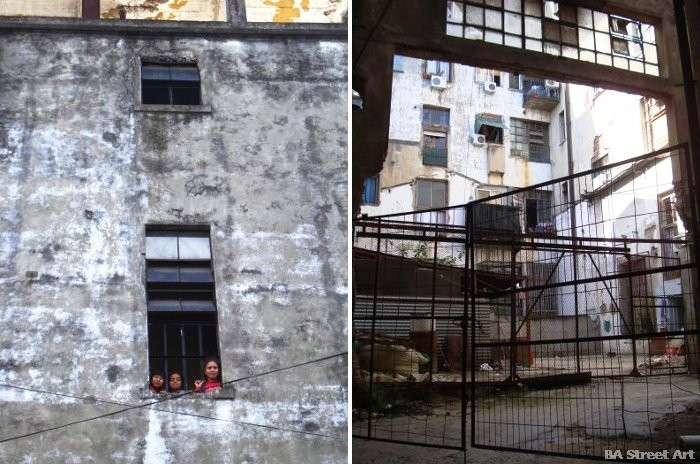 Residents living inside the abandoned textile factory
Most of the families occupying Fabrica Finchietto are immigrants from Bolivia, Colombia, Paraguay, Peru and Uruguay. Before entering the factory complex, which has a huge entrance that resembles the portcullis of a fortress or castle, a policeman standing by his patrol car, tells us: "It's a villa. It could be dangerous. Don't go in by yourself or you might not come out alive."
Designs by Colombian artist Malegria
Colombian street artist Malegria is one of 27 artists including Ever, Roma, Ice, Corona, Pin8, Ego, Remo and Andres Velasquez who are painting the courtyards, walls and passageways of this vast run-down building that is like a small town with its own laundrette and shops. "The artists are here to paint things that resemble love, light, colours," says Valeria. "We don't want the artists to paint monsters and dark things."
Rights of passage: mural by Ene Ene where inhabitants of the slum smoke paco
Valeria Arbeloa told Buenos Aires Street Art the aim of the scheme is to improve the surroundings in the 'fabrica' in a number of stages creating "un barrio más digno, más limpio y más lindo" ("a more dignified, cleaner and prettier neighbourhood"). "This is the second phase of the project. The first phase we invited different artists mostly from Colombia and then Callie Humphrey appeared and she's now part of it. The project is an inspiration for me, I don't have money but the funds I can put in I am putting in," says Valeria. "There are few resources and nobody helps us, there are no sponsors, there's nothing."
Valeria who says she is a travelling artist and fund-raiser
Callie Humphrey is an arts management graduate from Columbia University in Chicago, and originally from Los Angeles. She's the brains behind Concrete = Canvas which she set up after coming to Argentina a few months ago and being inspired by the vibrant street art scene. Her mission is to help transform 'grey desolate places' into 'vibrant canvases' by inviting street artists to paint and through their art help to instill a sense of community spirit and activism in poor communities. She takes me on a tour around Fabrica Finchietto. "There's a big alley at the back where at night people go to smoke paco and girls get raped there," says Callie. "The artists are back there painting."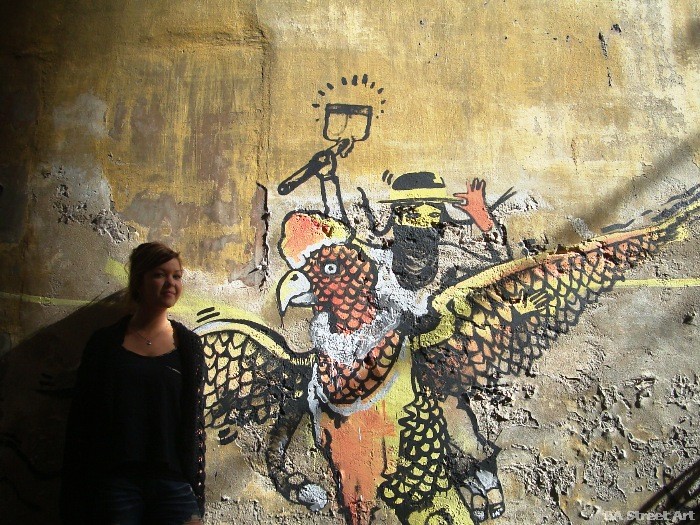 Callie in the alley
Incredibly, Callie has already raised almost US$3,500 dollars through her own sponsorship campaign. "It's a great community," says Callie. "Valeria has told me the mafia runs the place. I don't know if it's just gangs but it's difficult to get any sort of government support because we don't want to step on anyone's toes and create a dangerous area for the people who are living here because right now things function."
Murals by 1000-E and Ice
While the artists are painting, in the main square in the middle of the building complex, entertainment is being laid on for the kids and residents with live music, painting sessions and a bouncy castle all paid for by the initiative. Meanwhile, arrangements are being made for a circus with a flying trapeze, jugglers, clowns and dancers later in the day.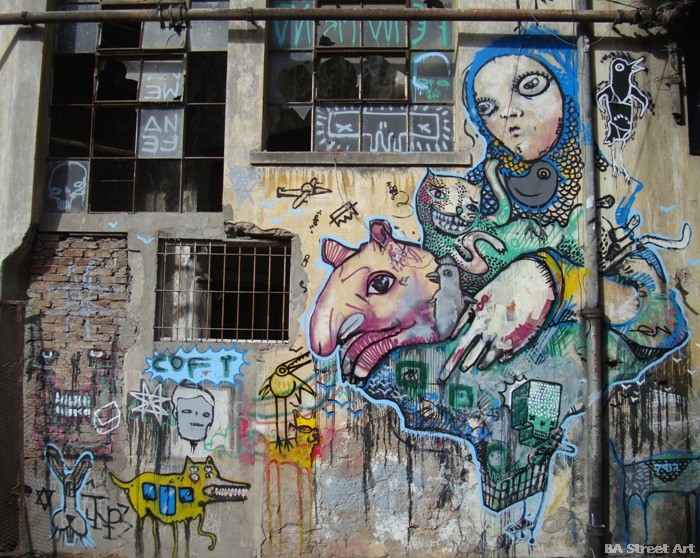 Pin8
More than 15 years ago, circus performers, artists and musicians started moving into the disused building, and were then followed by hundreds of immigrant families. Valeria herself is a performing artist and part of a travelling circus. "I live in this neighbourhood because I can't afford to live anywhere else but I feel lucky living here because now life has a better meaning," she says. "We travel around the globe. Now I'm going to Europe to do the street. I work in the street and I do street busking festivals."