The pimary elections in Argentina are just two days away (August 11th 2013) and in the city of Buenos Aires the rivalry between urban art and party politics has been renewed. Political posters and propaganda have been plastered over what were beautiful murals. Story and photos by Eli Shürmann.

Before and after – first mural painted by the civil association "Arte sin Techo" at Medrano and Bartolomé Mitre then wrecked by political posters
In the neighbourhood of Almagro which is one of the key grounds for local political campaigning, its walls and public spaces have been transformed over the last few weeks with different political parties competing with one another to get their messages across to the electorate.
Second mural before and after
On the railway bridge at Medrano and Bartolomé Mitre, political posters have been stuck on top of murals that once decorated the space of the civil association 'Arte sin Techo' ('Art without a Roof") which organises art projects for homeless people.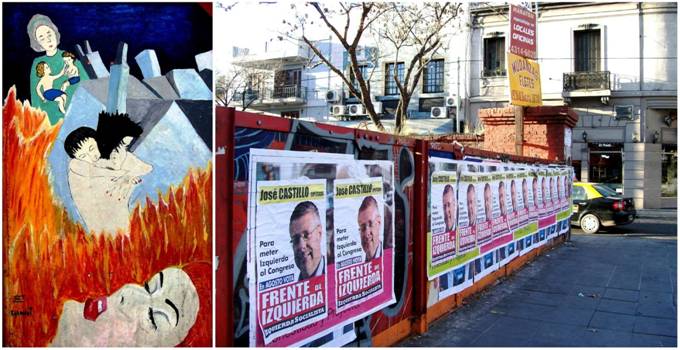 Cover up – posters stuck on top of another mural at Medrano and Bartolomé Mitre
Political campaign posters were plastered over all three new artworks in just over a week. Likewise a long wall with abstract interventions along the Sarmiento railway line has also been ruined by political slogans and propaganda.
Before and after – an abstract mural close to the Sarmiento railway line and political propaganda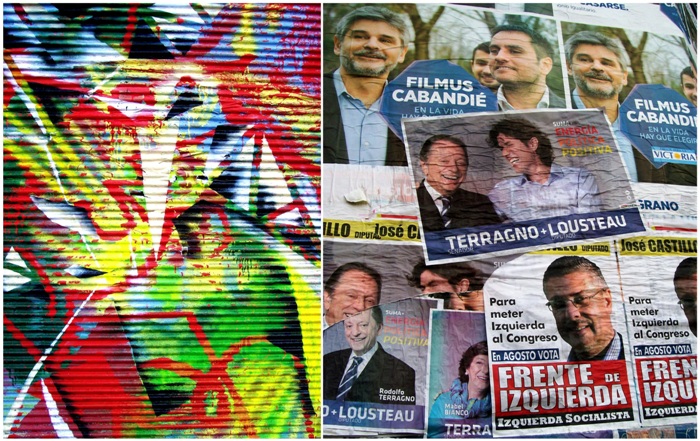 Artwork on shutters replaced by a collage of political posters
Elsewhere, an empty property on the corner of Gallo and Sarmiento has now been used as an electoral platform damaging the artworks painted last year by Malegria, Ene N, Ice, Oz, Rodez, Shaman and Anima.
Another artwork by Colombian street artist Malegria along Gallo and Sarmiento is ruined
Not again – Gallo and Sarmiento before and after
This agressive form of advertising produces visual contamination and constitutes a form of vandalism affecting artworks that were created for aesthetic reason. If street art is naturally ephemeral that doesn't justify its premature and avoidable destruction. A lesson that our politicians still haven't learnt.
Eli Schürmann is a graphologist who has dedicated herself to studying graffiti in Buenos Aires. In 2011, she started the project "AMG Street Art!", a photography essay documenting and the graffiti, murals, stencils and other forms of urban interventions in Almagro as a way of curating the local street art scene. Eli has also exhibited her photos of street art in several cultural centres around Buenos Aires. To check out more about Eli's project 'AMG Street Art!' visit her Facebook account at www.facebook.com/eli.schurmann
Story and photos © Eli Schürmann