Martin Ron, Jiant and Guiviro finished a spectacular new mural in Villa Urquiza on Saturday night after 16 days of painting. It measures 412m2 (14m high by 25m wide with a section of wall measuring 3.1m x 21m) and is the mural that covers the biggest surface area of any building in Buenos Aires. Buenos Aires Street Art  is proud to have organized the project. During the first stage of the mural, Martin painted a huge figure of a naked boy. Photos of the final stage by Miguel Babjaczuk for BA Street Art.
Day 9 – Surreal – Martin Ron starts painting the face of our friend El Chaqueño (Gabriel Dotta) working from photos taken the night before
Day 10 – Real genius – painting details of El Chaqueño's face
Day 11 – Hair raising – painting aeroplane pulling El Chaqueño's hair
Day 12 – Cover up – painting the third and fourth parrots, headphone cable and huge hand
Day 13 – Hands on – finishing the hand and starting painting the wasp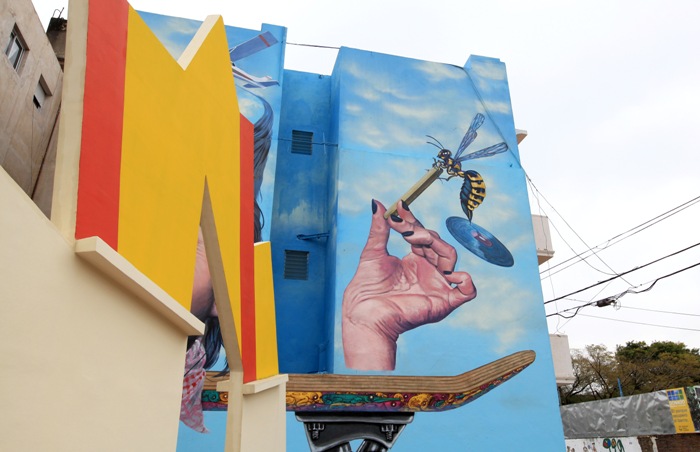 Day 14 – Spinning around – completing the wasp and the record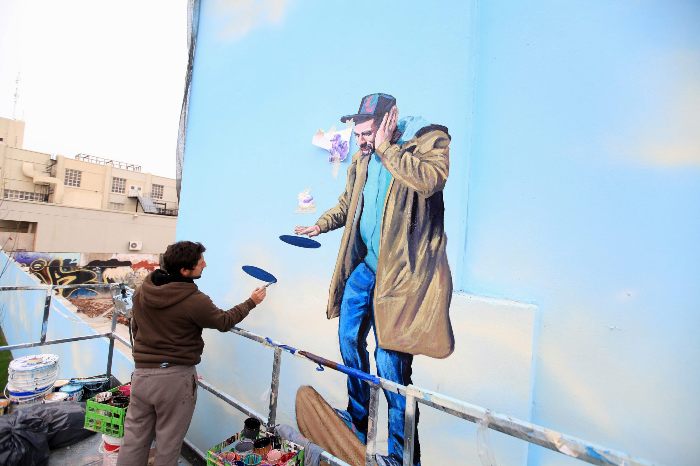 Superstar DJ – painting Leonardo Caruso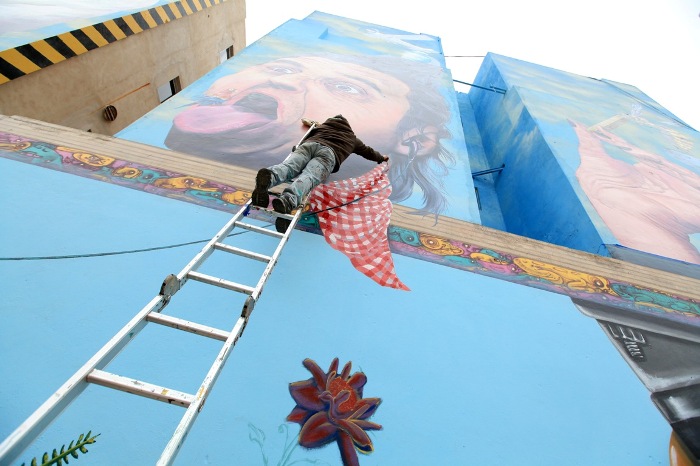 Day 15 – Up to your neck – El Chaqueño's scarf
Writing is on the wall with credit to BA Street Art for organizing and curating the project
Day 16 final day – On board – mini figure of Argentine architect Clorindo Testa
Boy wonder – final touches
Artists – Martin Ron, Jiant and Guiviro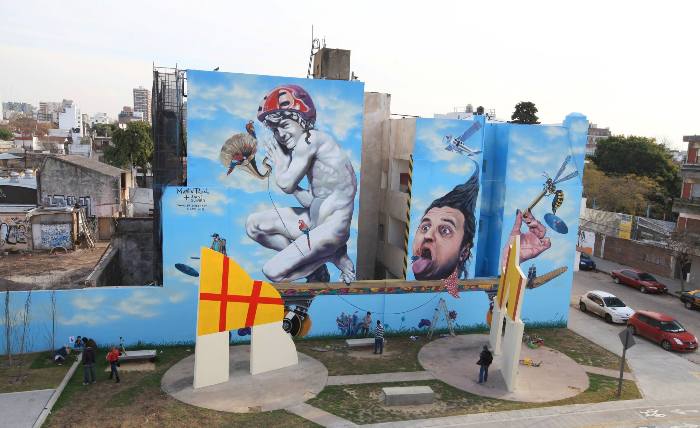 Mural covering the biggest surface area of any building in Buenos Aires painted by Martin Ron together with Jiant and Guiviro. The mural and idea for the mural project was that of Matt Fox-Tucker director of Buenos Aires Street Art. Martin's mural has been made possible with the help from Leonardo Caruso, district council CGPC No 12, Buenos Aires City Government. Inauguration of the mural will be taking place on Wednesday August 14th.
Photos © Miguel Babjaczuk/BA Street Art