Noe Cor, Giova Kini and Pol Corona have teamed up to paint a beautiful new mural in Puerto Madero.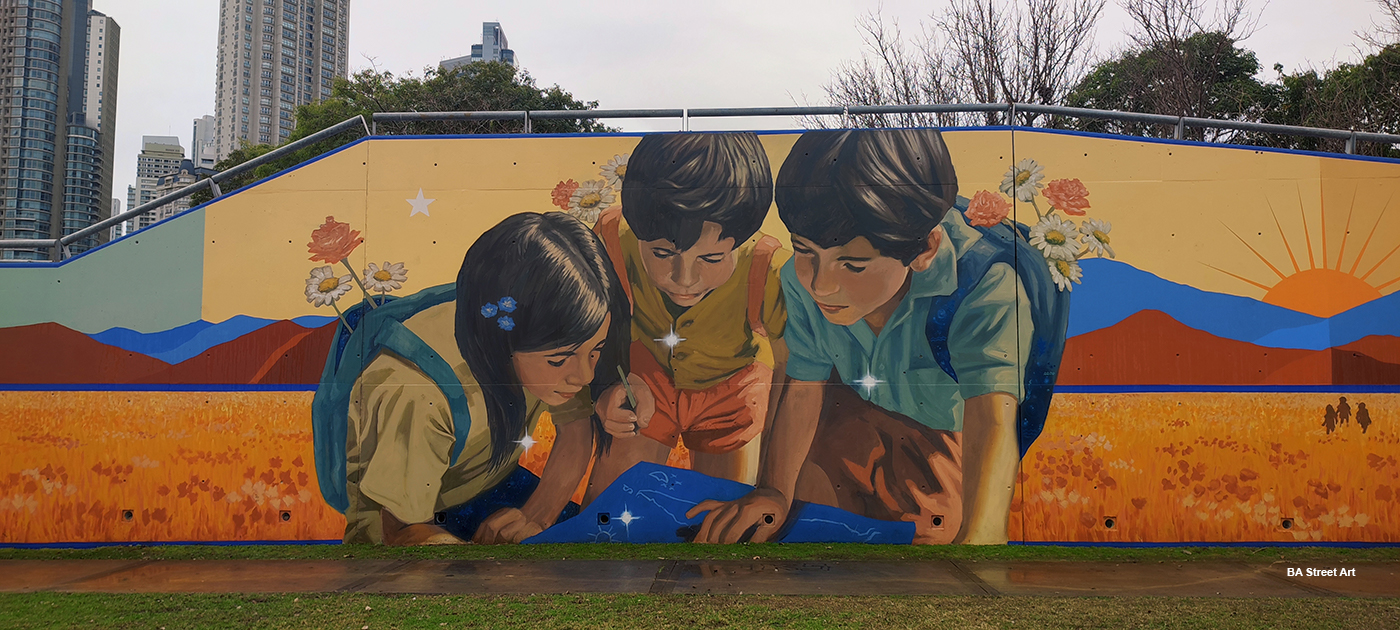 New mural in Puerto Madero, Buenos Aires (photo © BA Street Art)
Giova Kini (Chile) together with Noe Cor (Uruguay) and Buenos Aires-based street artist Pol Corona joined forces last month to paint this mural entitled "Treasure'. The mural project relates to 'Latin American Artists united for Democracy and Peace'. The artwork was completed over four days and is about childhood innocence, was curated by Lucas Marín.
The mural in Puerto Madero was completed over four days and features three children looking at a map and about to go on a treasure hunt.
The composition also features a girl with flowers in her hair while gazing at the night sky. She's also holding a telescope that is focusing on the Southern Cross.
The background consists of a mountain landscape relating to the Andes and a stretch of water reminiscent of the Rio de la Plata.
Puerto Madero is not a neighbourhood that is normally associated with street art with relatively few spots where artists can paint. It's better known for its eye-catching bridge 'El puente de la mujer' designed by Spanish architect Santiago Calatrava, luxury high rise apartments, expensive restaurants, mosquitoes and nearby nature reserve.
The mural is located in Park Micaela Bastidas, Puerto Madero.
All photos © Buenos Aires Street Art