Indigo Ars has painted a new series of murals with a Chinese theme in Barrio Chino in Buenos Aires over the last few months. BA Street Art spoke with the Argentine street artist about some of his latest creations and how it all started.

Goldfish – street artist Indigo Ars
Barrio Chino, located in the neighbourhood of Belgrano (centred around five blocks along Arribeños Street) is a tourist attraction and famous for its Chinese restaurants, food stalls, stores selling imported goods from China and local businesses offering Chinese medicine, massages and acupuncture. Over the last year, the Chinatown of Buenos Aires has also become well known for its street art.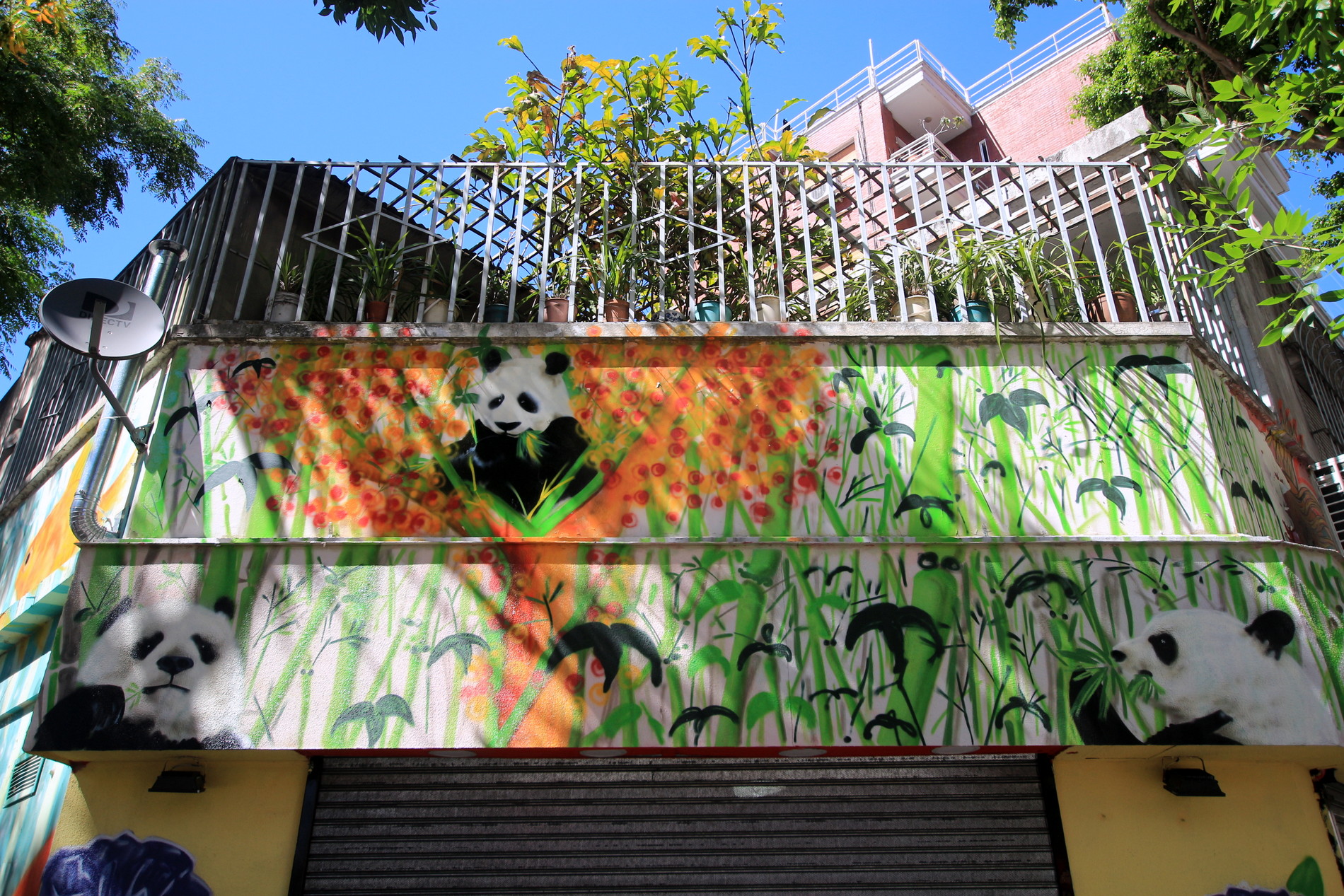 Panda power
Indigo Ars has painted half a dozen murals in the 'barrio' and painted his first mural on the corner of Arribeños and Mendoza in 2013. "The project came about after I asked permission to paint a building on a corner," explained Indigo Ars (real name Ale Dirisio). "After being granted permission to paint the first mural I actually did it for free! From the start I have had a good relationship with the owners and from there people started to call to commission me to paint more murals."

Giant Panda eating bamboo
"The first mural was one of some fish and now in its place are some pandas. I live relatively close to Barrio Chino – a couple of train stops away. The ideas for the murals came from getting to know Barrio Chino and my interest in Chinese culture," he explained.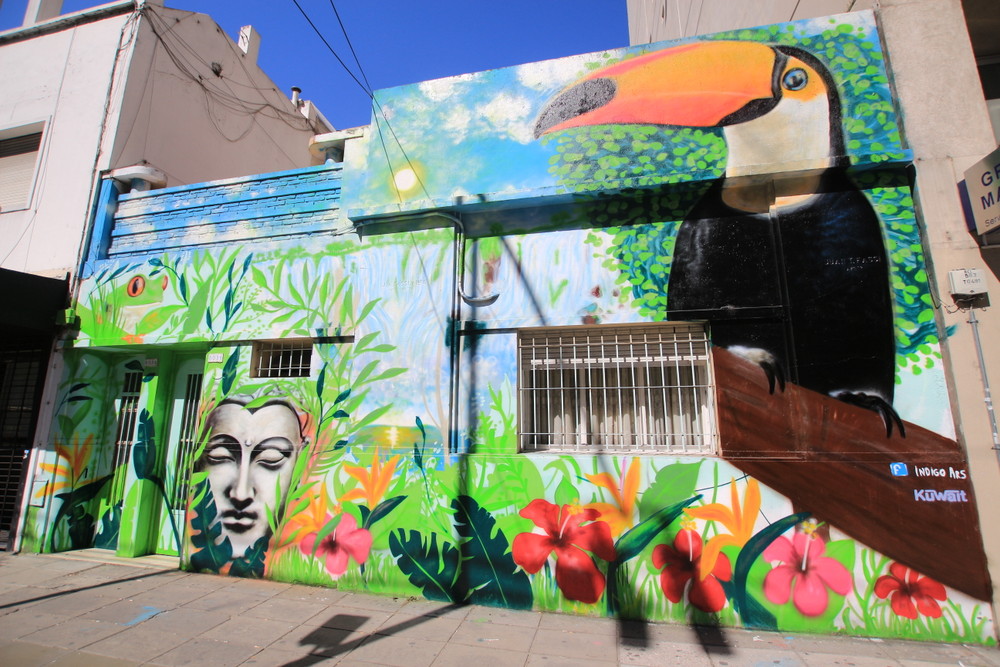 Jungle scene mural with a buddha, toucan and frog painted in January 2017
Indigo Ars says respect is one of the reasons he chose to paint Chinese themes in this series of murals. "I think it's important not to clash with what Barrio Chino is about and I don't think it would be right to paint something else. I also believe this has created a good relation with the traders and for this reason they hire me and give me the freedom to paint what I want but with an emphasis on their world."

Birdsong – another mural along Arribeños
He added: "The reaction I have had from the people who live in the neighbourhood has been great and they tell me they love the murals. The community really like them however sometimes they tell me to modify some elements in the designs because for many people feng shui is very important to them."

Indigo Ars: "I love Barrio Chino"
"Different cultures have always interested me and in the case of China and Taiwan I've always been fascinated by their history. China has one of the most ancient and complex civilisations in the world with its mythology, music and art and it's different philosophies and religions such as Confucianism, Taoism and Buddhism," revealed Indigo Ars. "For these reasons I love Barrio Chino."

Ancient culture – The Great Wall of China and birds
Despite his fascination with oriental culture and history, Indigo hasn't had the chance to visit China so Barrio Chino is the closest he can get. "No, I haven't had the opportunity to travel there but it's in my plans. Next week I'm going to be painting another mural in Barrio Chino to do with a theme about birds."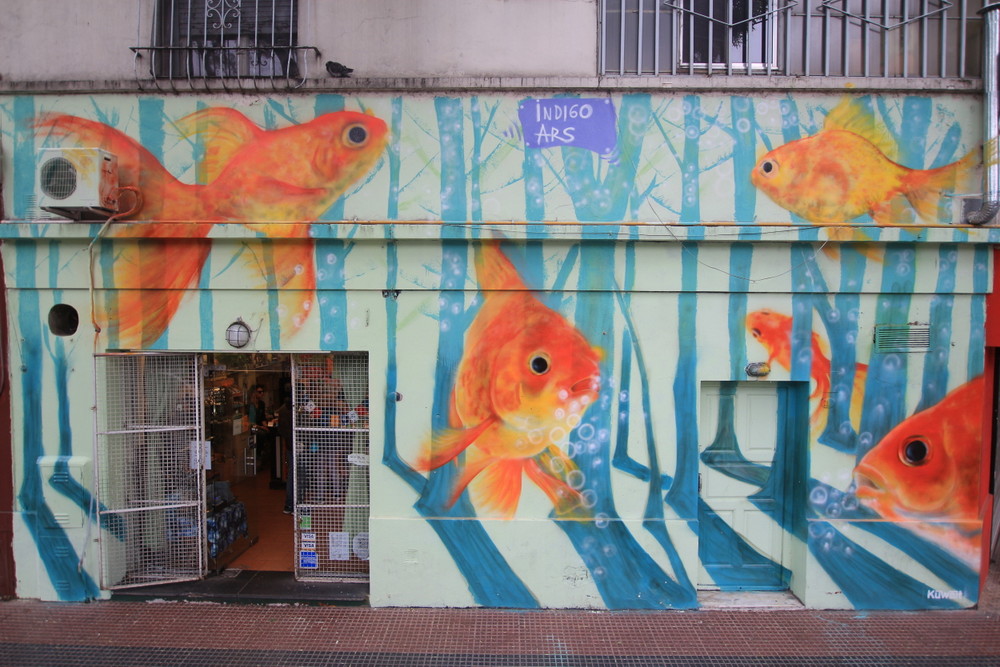 Goldfish on the front of two local stores completed in December 2016

Arch – symbol of Barrio Chino in Belgrano

Rooftop art with a buddha and koi carp
Check out more street art by Indigo Ars on his Facebook page and Instagram
All photos © BA Street Art