Ernest Zacharevic has painted some beautiful murals in George Town, the state capital of Penang in Malaysia. The Lithuanian street artist visited Penang in 2012 and has been back and forth to paint more than a dozen murals as part of the Mirrors George Town project. Matt from BA Street Art was in Penang and discovered how George Town is now on the map as much for its street art as for its colonial architecture and being a World Heritage Site.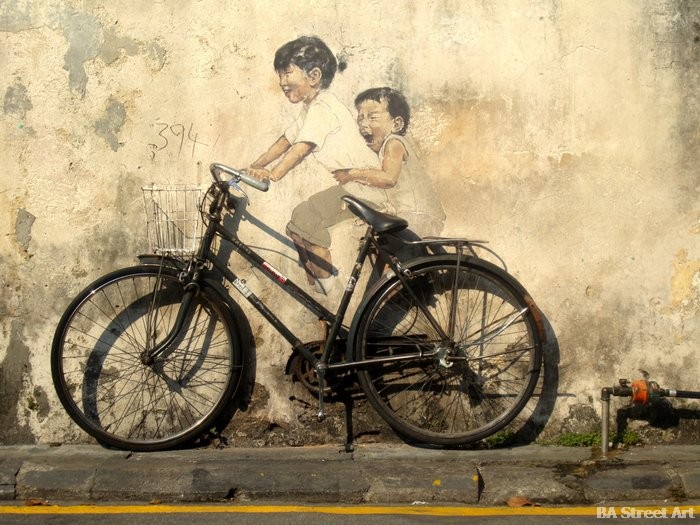 Ernest Zacharevic – 'Little Children on a Bicycle', his best-known mural in George Town on Armenian Street
Ernest's murals adorn the narrow streets and alleyways of George Town and the artworks have even become part of an urban art trail with tourists having a great time exploring the city and photographing his interventions that have been made with bicycles, motorbikes, chairs and furniture.
'Boy on a Bike' mural on Lebuh Ah Quee Street, George Town
'Reaching Up' mural by Ernest Zacharevic on Cannon Street
'Little Girl in Blue' mural by Ernest Zacharevic on Muntri Street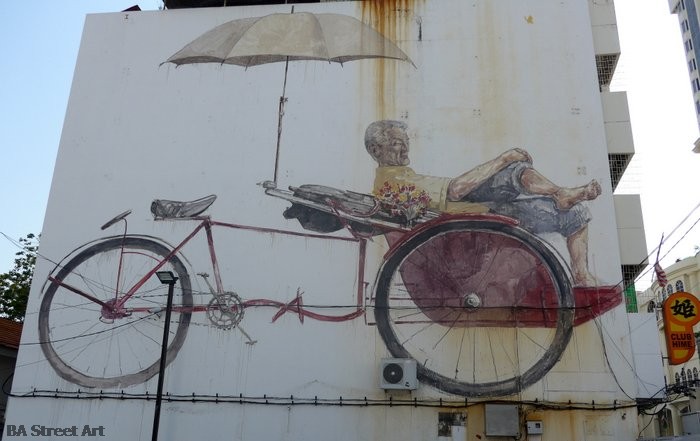 The Awaiting Trishaw Pedaler – last mural by Ernest Zacharevic during Mirrors George Town project on Jalan Penang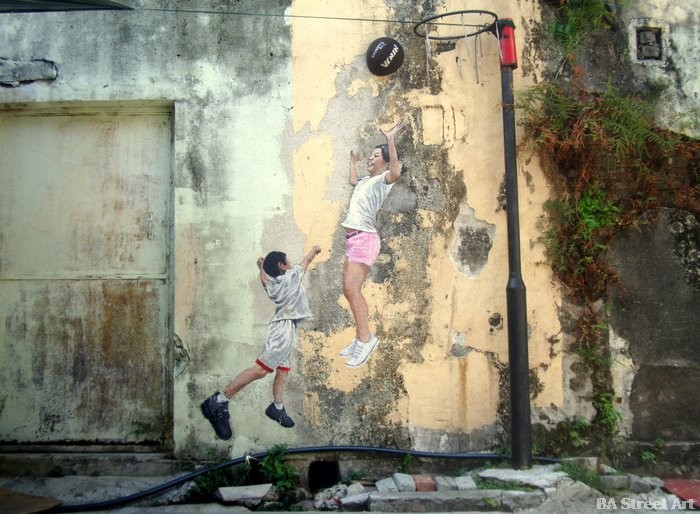 On the other side of Gat Guilia Street is a stencil of children playing basketball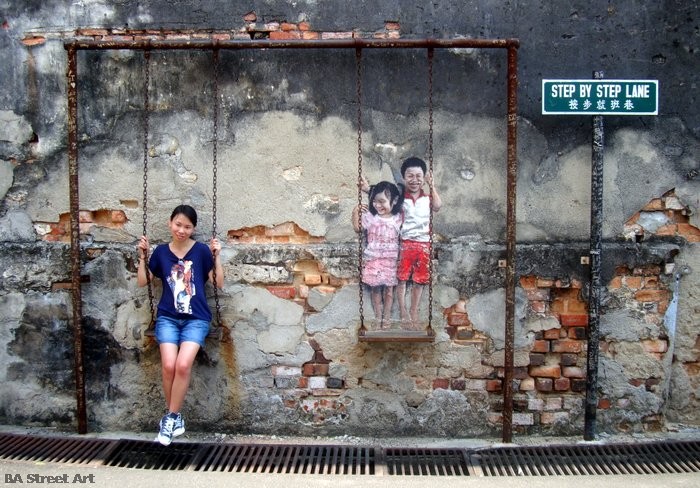 Brother and Sister on a Swing' by Louis Gan, a local deaf-mute self-taught artist,  on the wall of a printing warehouse along Step by Step Lane
'I want Pau' ' artwork outside a pastry shop along Armenian Street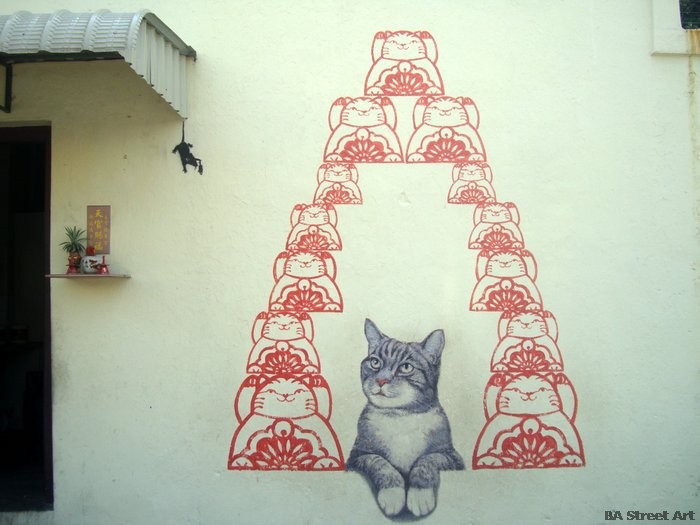 'Fortune Cat' on Armenian Street – one of 12 cat murals painted under the 101 Lost Kittens project to create awareness about stray and abandoned animals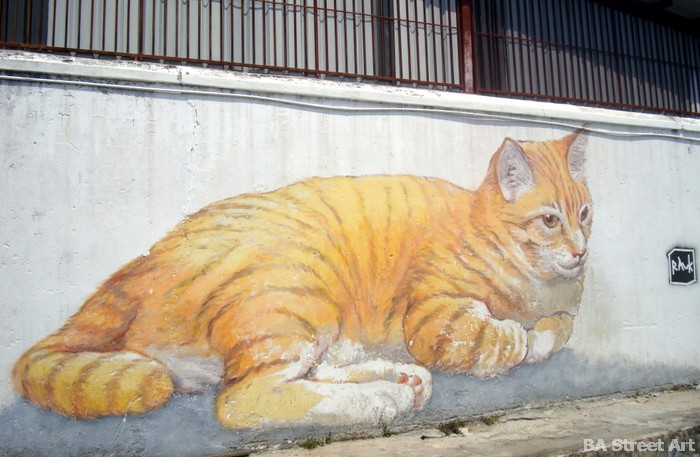 'Skippy Comes to Penang' – large cat mural painted by ASA (Artists for Stray Animals) along Armenian Street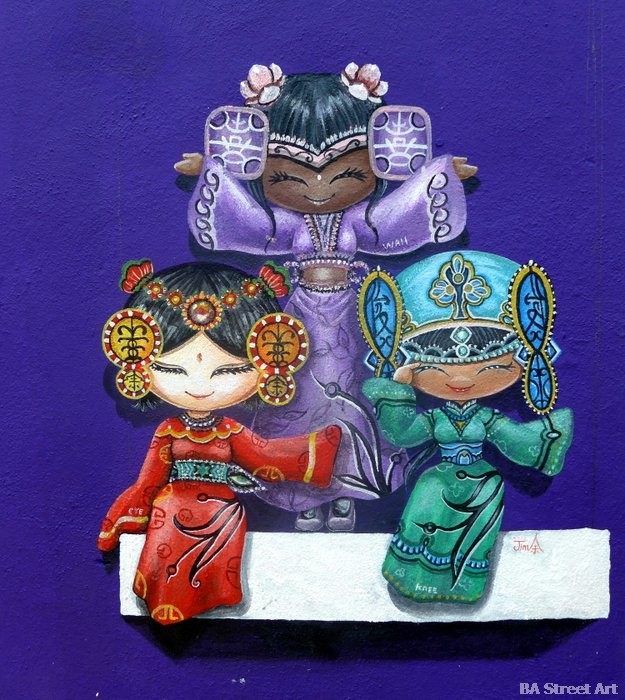 'Wo Ai Nee Malay Indian' – mural along Armenian Street on wall of the I-Box Museum of Glass depicting a Chinese, a Malay and an Indian girl in elaborate dress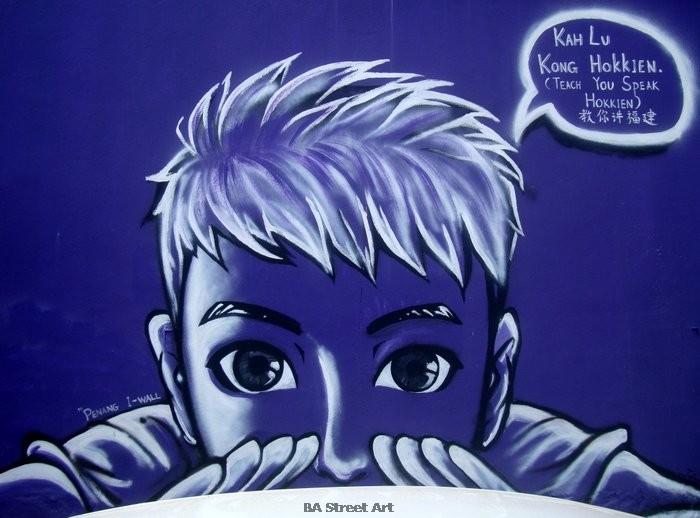 Another mural on the facade of the I-Box Museum of Glass
'Amah and Asoon' at Chew Jetty by local artist Simon Tan
All photos © BA Street Art. Check our more street art by Ernest Zacharevic at www.zachas.com