Bali street art and graffiti in Canggu
The island of Bali is a great place to check out street art and graffiti with a number of artworks
Read more.
Malegria and Sasha new mural in Colegiales
Malegria and Sasha (Primo) teamed up a couple of weeks ago to create this new mural at the Mercado de
Read more.
Kuala Lumpur street art and graffiti in Malaysia
The sad news that Ernest Zacharevic's fantastic installation 'Rage against the Machine' in Kuala Lumpur, Malaysia has been destroyed, inspired
Read more.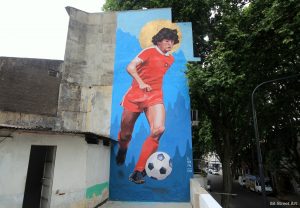 Diego Maradona new mural by El Marian and KNO in La Paternal
Argentine street artists El Marian and KNO have painted a new mural dedicated to Diego Maradona in La Paternal, Buenos
Read more.