U.S. mural artist Kiptoe has been in Buenos Aires and completed a new  work in Coghlan. Project was organized and sponsored by BA Street Art.
Kiptoe in front of his new mural entitled 'Motivación' in Buenos Aires
Kiptoe, 24, who lives in Los Angeles, U.S.A. has been on a tour of Latin America. After painting murals in Bogota, Colombia, he arrived in Buenos Aires this week before finishing this new one he has called 'Motivación'.
The artwork features a medieval knight and a bull
Kiptoe spoke with BA Street Art about the mural: "It's about this hero who is trying to go into battle and wants to fulfil his dreams but this girl is messing up his motivations a little bit and her hair is wrapped around his sword and holding him back. He really wants to defeat this big evil bull and the yellow line is surrounding him."
Wrapped up
Painting details on the face
Beginning work on the bull
Originally from New Hampshire, Kiptoe studied illustration at Massachusetts University before moving to LA where he got into painting murals. He said he enjoyed painting in Coghlan: "I've had a great time, it's a nice neighborhood and everyone been really friendly and seems to really like the mural. It's been a fun few days with bright sunshine and it's nice to be in Buenos Aires."
Finishing details on the armour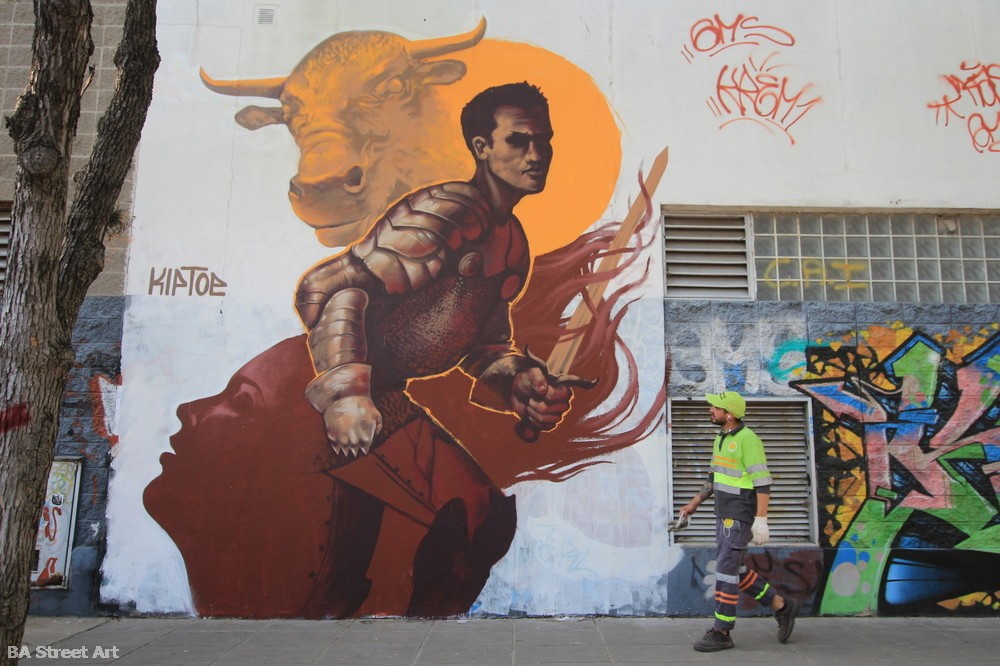 Completed mural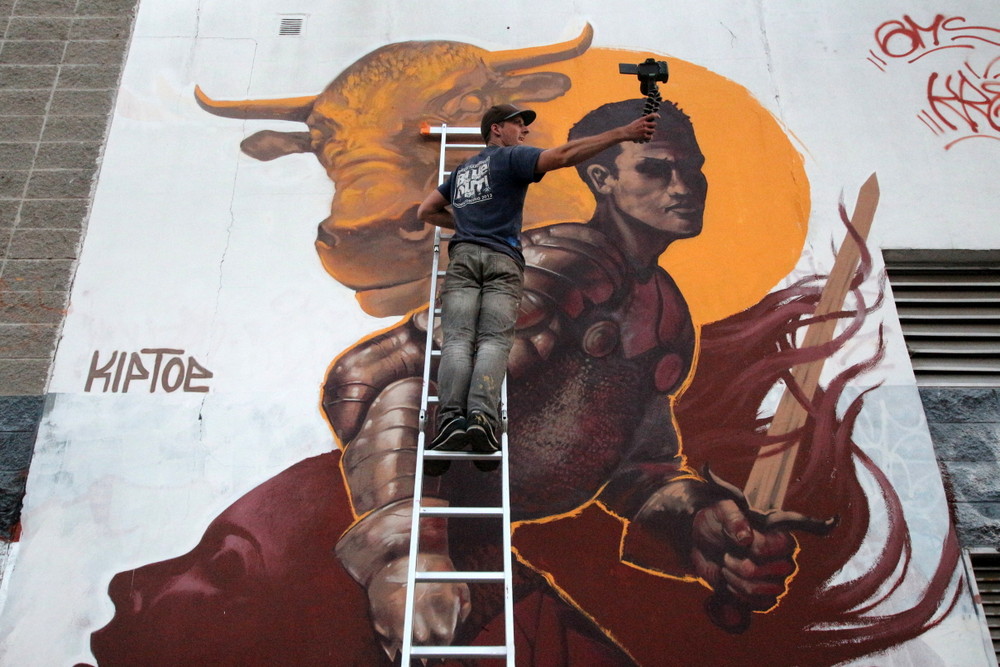 Action movies
Kiptoe describes himself as "an action movie geek". Many of his murals tell their own stories and are influenced by comic superheroes and action movies and he names Spiderman II, Daredevil, Iron Man and Captain America II as some of his favorites. He also writes movie scripts and edits his own short films and videos.
Heroes
All photos © Matt Fox-Tucker/BA Street Art