Havana is a great place to check out murals and graffiti with its colonial architecture and abandoned buildings providing a rich urban canvas.  BA Street Art's Matt Fox-Tucker was visiting Cuba this month and took these photos documenting the murals and artworks to be found around the capital.
Mural by El Mac in Vedado, Havana painted at the 11th Havana Biennal (2014).
The mural is entitled 'The Dream Beats Within my Hands' and features a local cook called Adis Naranjo. International artists such as El Mac, J.R., Stinkfish, Rodez and the 1up crew have visited Havana in the last few years to paint and take part in art projects such as the Havana Biennal.

New mural by Ricky Mastrapa in Havana (2015)
The U.S. artist was in Havana earlier this year and painted this huge mural on the wall of this football and basketball court near Avenida Prado.
Mural by Colombian street artist Stinkfish close to El Capitolio (2015)
Artwork by Colombian artist Rodez
'Love is Good' – mural by Mabel Manzano
HD crew
'Yabba, Dabba Do' – Flintstones graffiti by 1UP crew
Graffiti and classic car close to Plaza Cristo
Zlyunt
Stencil by KP crew and stencil of James Brown with the phrase 'Corners that rhyme'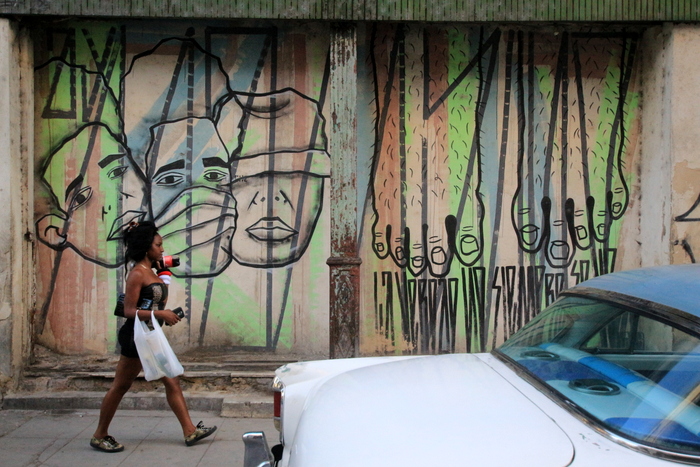 Artwork close to Museo de la Revolución
5 Stabs
Portraits off Obispo in Ciudad Vieja
Callejon Hamel
Callejon Hamel is a street that starts at the junction of Animas and Aramburu that is famous for its murals, sculptures, mosaic tiled-walls and artistic interventions. Cuban painter, muralist and sculptor Salvador Gonzales Escalona is the creator of the project.
Salvador Gonzales Escalona in front of one of his artworks with the phrase "I die with you but not for you".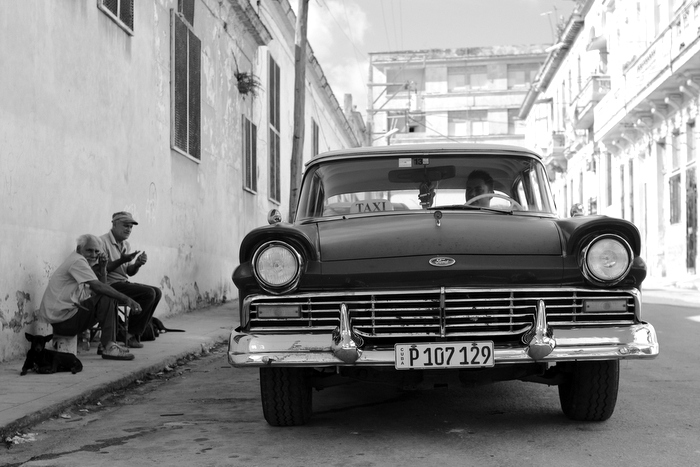 Classic car near Callejon Hamel
Mural of Che Guevara on corner of San Ignacio and Santa Clara streets in Ciudad Vieja
Stencil of 'El Che' inside a house in Ciudad Vieja
Political propaganda with the phrase "Faithful to our history".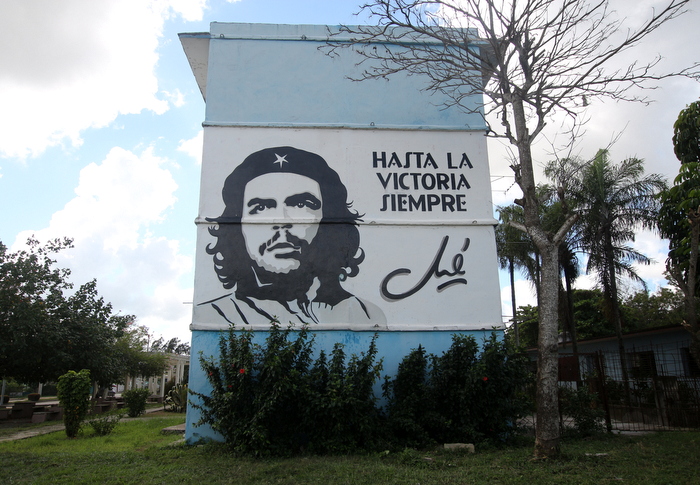 Government propaganda featuring the iconic portrait of Che Guevara by Alberto Korda can also be found all over Cuba.
Photos © Matt Fox-Tucker/BA Street Art