Death, Skeletor, Predator, monsters, vampires, demons and Trap Jaw holding the severed head of Jesus Christ are among the stunning and terrifying creations of Argentine street artist Emy Mariani. Buenos Aires Street Art spoke with Emy about his love for heavy metal, horror stories, myths and legends, and his views about death and religion that all have a big influence on his art.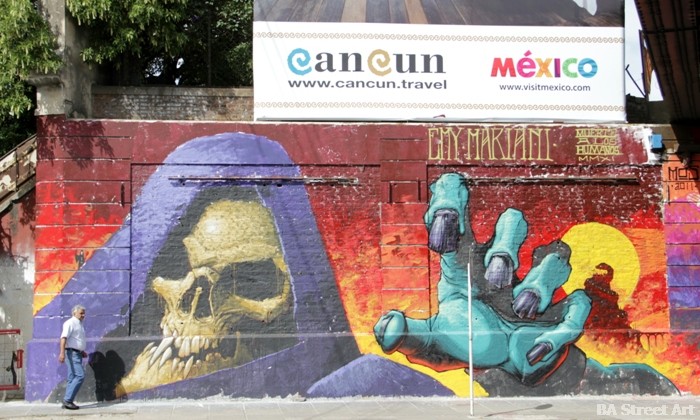 Mural of Skeletor by Emy Mariani (Meeting of Styles 2011)
Emy was brought up in the neighbourhood of Nuñez in Buenos Aires and loved drawing ever since he was a boy. After leaving school, he studied advertising at Raggio Technical College and aged 19 he painted his first mural inside a stage design workshop in Olivos. Emy worked for several years with street artist Lean Frizzera designing sets for the TV, film and music industry and has also created artworks for advertising campaigns and rock bands.
Mural with Lean Frizzera in Palermo
In 2007, Emy painted his first artwork in the street for a film in Bahia Blanca with Emmanuel Pellegrino 'KASE' and two years later he painted his first mural on a grand scale, a giant severed head of Christ with a crown of thorns in San Telmo.  "I really like the cut-off head of Jesus," reveals Emy animatedly. "It's a strong image and I thought it would be good to represent something about all that I believe in."
Mural of severed head of Christ in San Telmo
"I think Christianity is the worst thing that has happened to the human race," said Emy. "Religion generates hate and death on all sides, so by cutting off the head, I am cutting off what is bad at the root. I don't hate Christ, I hate religion and ecclesiastical institutions. I think religion is a mechanism of death and torture, it's a big business and a lie. In medieval times the Church was the great castrator of knowledge that burnt books and burnt people for describing things that are obvious like the earth revolves around the sun. They are the big censorers of the human race. You would be having a quiet time in your village and along came a monk and killed you if you weren't a Christian. This is why I hate religion. I despise the arrogance. Arrogance is the worst thing that humans have and I hate the Church because it is the most self-important institution there is together with politicians."
Emy painting Skeletor in Palermo (2011)
"Skeletor was the first mural that I really took seriously and I put all my energy into it and it was weird," revealed Emy. "At first I thought about painting a hand but I didn't want to paint it by itself so I decided to do Skeletor with his hand to one side and the sky and a mountain behind and do something huge. With Lean (Frizzera) and Martin (Ron) we gave it everything, you put on your headphones and listen to some heavy metal music and it helps you paint." Last year someone wrote the word "vida" (life) over the face of Emy's Skeletor mural and a political party then ruined the design by covering it with political propaganda. Emy said that his design was misunderstood by some people. "They wrote "life" as if it were the reincarnation of Death. It's Skeletor, simple as that. What annoys me a little bit is that some people think the figure represents Death."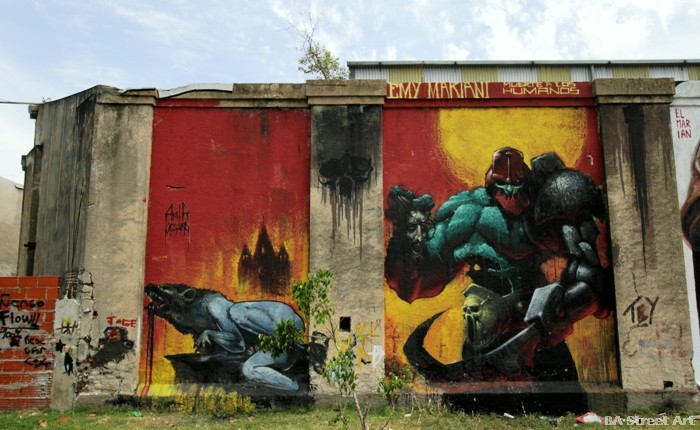 Trap Jaw with severed head of Jesus and the phrase 'Muerte a los humanos' at MOS 2012
Accompanying a couple of Emy's murals including Skeletor and Trap Jaw at Meeting of Styles 2012 is the phrase "Muerte a los humanos" (Death to Humans) and he explained what it means. "'Death to Humans' is born from the indignation and impotence that I feel about what we have become as a race of people. I see that brutal capitalism has won the war and that our needs will be the tragedies and disasters of other people's lives. The Earth should be something marvellous, it was and still is in our hands but we don't allow it to happen because the culture of money has won the war."
Emy with headphones on and his illustration of Trap Jaw from Masters of the Universe
Trap Jaw is a character Emy created himself based on the figure from the He-Man comic book series. "In certain ways Trap Jaw represents the revenge of Skeletor," explained Emy. "If someone has the right to write "life" over Skeletor's face, I have the right to put the head of Jesus in the hand of Trap Jaw. With this design I did a sketch beforehand, I like to draw what I am going to paint and all the murals in the street like this one are 100 per cent my designs."
Skull with tentacles in Colegiales (2012)
As well as monsters, skulls often feature in Emy's artworks. "As a heavy metal fan, the skull is the most beautiful thing in the world," enthuses Emy, who also has a number of skulls scattered around his apartment. He also painted a giant monster surrounded by skulls in Palermo. "It's a demon rising up from a mountain of skulls," explains Emy. "I painted it in two days with the help of Pablo Alvarado but the political parties painted over it (with propaganda). There are piles and piles of skulls of dead people and we called it Magma as it is as powerful as lava."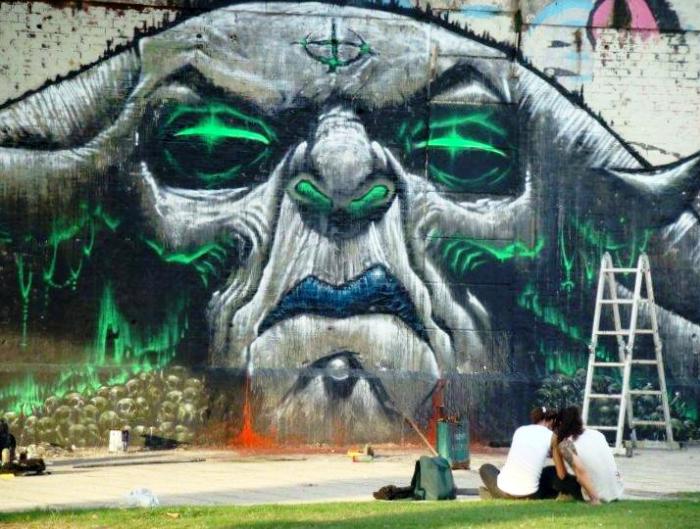 Giant figure of Magma on mountain of skulls painted in Palermo with Pablo Alvarado (ph: Emy Mariani and Pia Armanini)
The subject of death is a taboo for many people but not for Emy. "It seems to me that people have so much fear of dying that we are forgetting to live a little. We have to embrace death a bit because it is a natural process of life, you have to try to enjoy every moment of your life and the fact you are alive. I'm happy and every day I try to do what I like and enjoy the small things in life that we sometimes take for granted. If I fall off a ladder and crack my head open and die, I hope someone will ask 'what was Emy doing?' and the answer will be, 'I was painting a 20 metres high monster!'"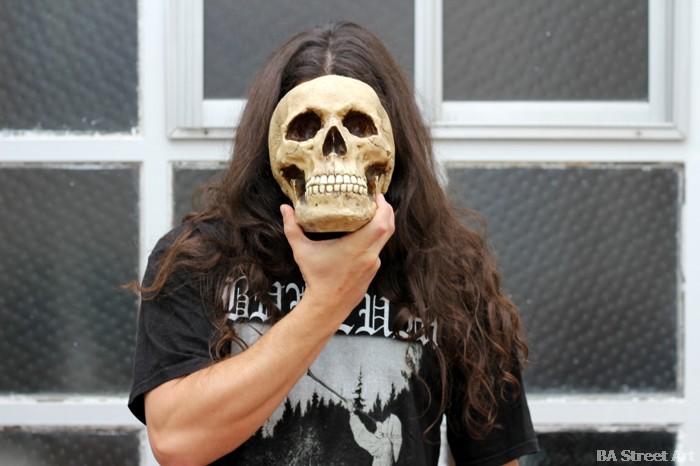 Emy: "For a heavy metal fan the skull is the most beautiful thing in the world"
Back to the topics of religion and death then. "I'm not religious", admits Emy. "Absolutely not, I believe in nature. To me the figure of death represents itself in many forms in nature, I have more fear of nature and what is happening around us like when a storm can destroy everything in its path."The devastating floods and storms in Buenos Aires in April 2013 wrecked hundreds of homes and businesses with more than 50 people losing their lives. "You have to respect nature," stresses Emy. "When there is an earthquake you have to ask yourself why are you living in a city with an earthquake? At the same time people are drilling into the ground for oil and minerals and don't seem to think that there will be any consequences. There is something beautiful about ancient myths and one reason why I like to paint monsters is that before when man took something from the Earth, a giant or god like Odin, Trauco or Poseidon would rise up and destroy everything."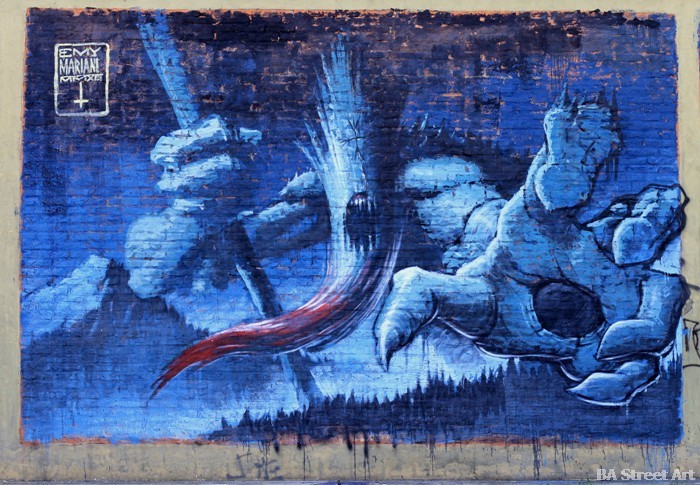 Myths and legends – Trauco mountain god of the Mapuche and Tehuelce tribes 
The bookshelves in Emy's apartment are full of Scandanavian sagas, volumes of myths and legends, books about the cosmos and stories about alchemy and vampire tales. His favourite horror writer is H.P. Lovercraft and his favourite character is Cthulhu. Many of these figures also feature in his murals. Nosferatu, the character from the 1920s vampire movie who was an unauthorized adaptation of Bram Stoker's Dracula is another Emy has painted.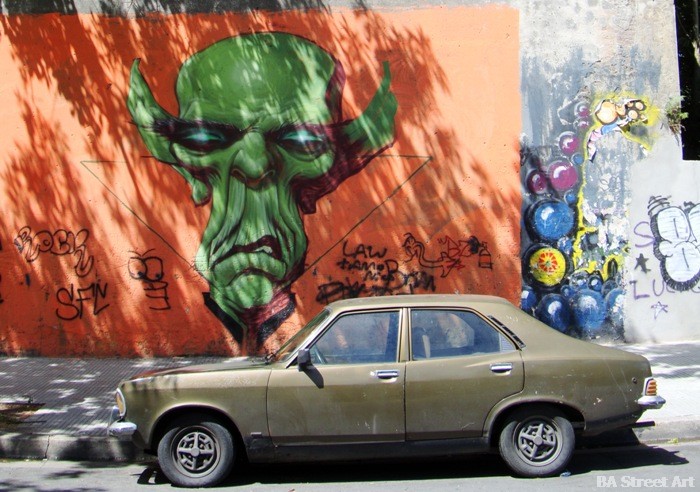 Mural of vampire Nosferatu in Parque Chas
"To me why I paint what I do is a primeval fear of monsters and the fantasy that we have lost," says Emy. "Civilization has created a whole lot of myths and legends and we have erased a lot of them. Now people realize that mythology is a bit more important after seeing films on television. I feel that we have lost a lot of these monsters like the leviathan that rises up from the sea and is feared and respected by man."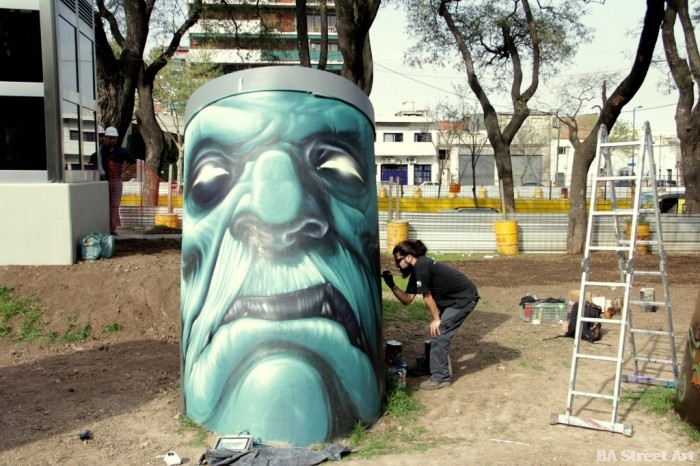 Emy painting Elensagem, god of storms from the Tehuelche tribe
"What I am doing is not just about painting a pretty image or a reference to a beautiful drawing or character from 80s popular culture.  I think it's interesting to apply a theme that can help teach children in Argentina or abroad about a culture we have that has been lost. Because of movies people know who Thor is but nobody knows who are Trauco, Ngenechén or Pachamamá." 
Demon scorcerer Mumm-Ra from Thundercats (2011)
Taking about cinema, Emy has painted a number of murals of comic book and cartoon characters including Mumm-Ra from Thundercats and Predator from the sci-fi movie starring Arnold Schwarzenegger. "I consider that I have a style related to movies and that of superheroes like Iron Man who are very popular at the moment and I like painting them," explains Emy.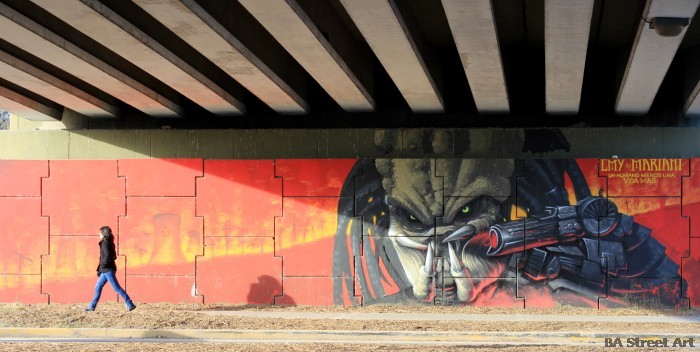 Predator painted at the 100×100 festival in Tigre
"Why did I paint Predator? I think that images like He-Man or Thundercats are great and they are characters that lots of people love. What was nice was that I painted Predator horizontally setting fire to everything with nuclear weapons, burning oil fields and crosses. What was crazy was that the local council (who helped organize the festival) called me about a local resident in the North-Delta who had complained about 'the violence' of the image and the shoulder-mounted firearm but he didn't complain about the burning crosses!"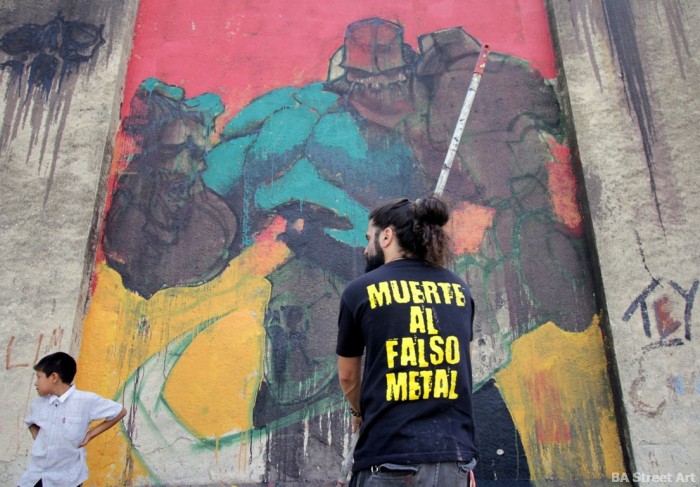 Metalhead – Death to false metal
As a teenager Emy was crazy about comics naming Swamp Thing as his favourite and he was a big fan of the horror magazine Creepy but heavy metal music was his true passion. "I have always been a heavy metal fan," says Emy. "What I like about heavy metal is the music and how it sounds. Until I was nearly 14 I didn't really listen to music much. I listened to jazz a bit but I had two school friends who were into heavy metal and I asked them what it was and they lent me cassettes of Iron Maiden, Black Sabbath, Judas Priest and Motorhead and I would to listen to them over and over again. I had always liked horror stories and a lot of heavy metal music is also about horror. When I was 15 or 16 the only thing I cared about every week was if I could save 10 pesos so I could get up early on a Sunday morning and go to Juan Carlos' stall in Parque Rivadavia and buy myself three cassettes for three pesos each. With the remaining peso I would buy myself a hamburger and wander off with the three tapes in my Walkman listening to the music."
 CD cover designed by Emy Mariani for the band Horcas
Among his other favourite heavy metal bands are Slayer, Down and Norwegian black metal artist Burzum. Emy has also made the artworks for CD covers for Argentine metal bands Sauron, Horcas, Jeriko and Mastifal. "My friends and I didn't have money and we always used tape recordings, and the first time that I saw a record cover by Iron Maiden I went crazy and told myself: 'This is what I want to do!'"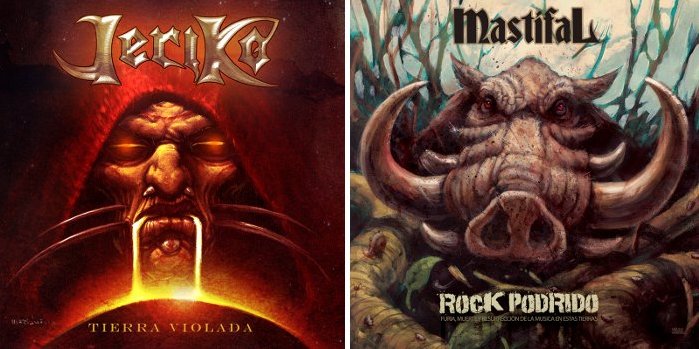 Jeriko and Mastifal CD covers by Emy Mariani
"Since I was 19, I started to make album covers. My first was a cassette cover and now I have made 45 album covers. My favourite band by far is Sauron. I make album covers because I love the music I listen to. I don't know how to play the guitar or drums and I don't sing so the only way that I can get close to the music I love is to make CD covers. I love belonging to something that I like that gives me pleasure doing it."
Mural of High Priest goat vomiting blood in Belgrano
One mural in Belgrano that features a High Priest goat vomiting blood has given Emy immense pleasure. "I like this one because it was the first time a heavy metal fan passed by while I was painting and he said: "Wow, wow!" And I responded: "This one is for you guys!" Emy added: "The mural has some other details I like such as the menhirs – stone monuments that were common in Celtic and Viking culture – and there are some sculptures of the hand of Christ with holes from which blood pours out and a wood covered in mist with a procession of satanic monks walking up the hillside and a mini self portrait of me with a hood. I haven't see any mural in the city that has been painted for heavy metal fans. I don't think there is one. I don't have two million fans on Facebook, I have a few but they are all heavy metal fans."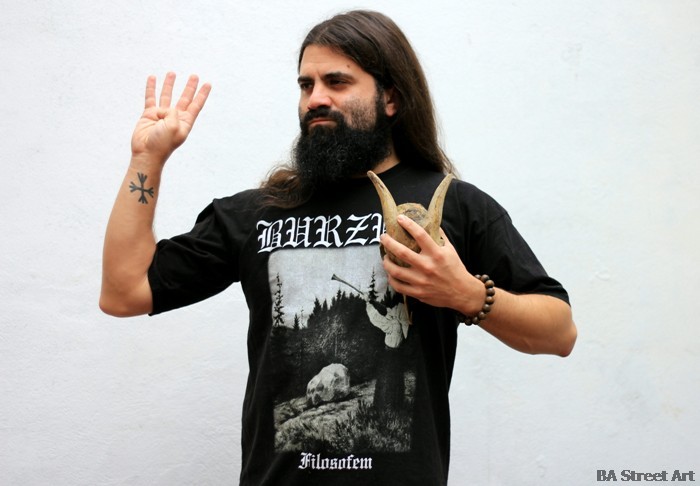 Emy: "Ever since I was a child I loved monsters"
Emy's enthusiasm is infectious and he has the same passion for monsters and horror movies as he had when he was a youngster. "Ever since I was a child I loved monsters, of course I'm just a big kid," jokes Emy. "We all have a dark side. My dark side is due to the tastes I have. When I was young my mother told me if you watch horror films you are not going to be afraid of anything in life. It's sadomasochistic but it's like reading a book, if you don't let it take you away out of fear you won't know what happens.  If you read a really good horror story, there are times where you have moments of panic thinking about the characters and sounds and not knowing from where they are coming from. The best thing about these books is that they never describe the characters themselves so you have to imagine them; it might be a sound, you are there but what is that lurking in the darkness?"
Check out more amazing artworks by Emy Mariani at flickr.com/photos/emy_mariani/
Interview and all photos unless stated © Buenos Aires Street Art