Street Art Tours
Join us on a street art tour and check out the biggest murals in Buenos Aires in neighborhoods that aren't in the tourist guidebooks. Our tours visit the Villa Urquiza and Coghlan Art District in the north-west part of the city where there are whole streets filled with murals and huge artworks covering entire buildings by artists such as Blu, Martin Ron and Fintan Magee. Find out why Buenos Aires is regarded as one of the street art capitals of the world and photograph fantastic artworks by international and local artists and hear the amazing stories behind their designs. Also check out reviews about BA Street Art Tours on Tripdavisor,
Regular tours take place on Tuesdays, Thursdays, Fridays and Saturdays starting at 3.15pm. The quickest and easiest way to reserve your places on the tour is via the booking system below. It takes less than 5 minutes and meet up details will then be sent to you automatically upon booking.  Or email us at info@buenosairesstreetart.com
What do I need to know?
Regular tours are in English – (Private tours also available in English and Spanish)
Tours on Tuesdays, Thursdays, Fridays and Saturdays starting at 3.15pm.
Tours last approx 2 hours 40 mins.
Tours start in Colegiales and end in Palermo (full meet up details sent after booking)
Optional extra … aerosol class with local artist
Want a private tour for yourself or group? Details » Want to paint graffiti with tuition from a top artist? Details »
See designs by Italian street artist Blu who made his incredible animated movie
Muto
on the streets of Buenos Aires.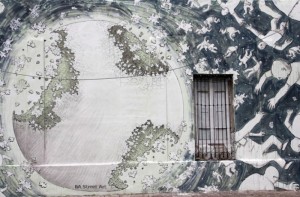 BA Street Art Tours reviews on
I had a fantastic day walking the streets of BA. Our guide was enthusiastic, knowledgeable and an all round genuinely friendly. Having written a book on street art in BA you would be hard pressed to find anyone more in touch with what's going on. We saw some of the best examples of street art I've seen in any city. I work with a lot of street artists in London and it was refreshing to come half way round the world and see such passion here! If you choose any tour make sure it's this one. – Sam Mills, London
I recommend everybody visiting Bs As to consider this tour as it will be really a great experience. Moreover, if you're lucky, you can have the chance to see an artist at work! – Lucia Esposto, Italy
If you have an interest in art of any kind then I can't recommend this tour highly enough. It was fascinating and the guide's enthusiasm and huge knowledge of his chosen subject made the tour one of the best experiences of our month-long trip. – Fiona and Trevor Wilson, Scotland
We saw a very different side of Buenos Aires that most tourists probably wouldn't even think to see. I'd recommend it to everybody who is living here, or just passing through. – Andrew Gardiner, Australia
The Buenos Aires Street Tour is one of the best things I've done in the city. If you love art and love walking in the discovery of new places, go on this tour! - Kendall Watkins, USA
Check out more reviews in English, Spanish, Portuguese, French and German about Buenos Aires Street Art Tours on Tripadvisor
Buenos Aires Street Art Tours in the news …..