Colombian street artist Kiki (real name Cris Herrera) finished a new mural in Chacarita, Buenos Aires dedicated to the Argentine rock band Soda Stereo a couple of weeks ago. The project was organised by BA Joven.
The mural features a portrait of band leader Gustavo Cerati flanked by Charly Alberti and Zeta Bozio.
Kiki told BA Street Art: "For me Soda Stereo are one of the benchmarks of music in Latin America when I was growing up and I was really excited by the idea of painting a tribute to the band. The idea is I chose to develop the mural was to represent the band with Latin American vibe and link it a little to what I like to paint that is nature relating to our ancestors and the spiritual world."
'En la Ciudad de la Furia' with the Obelisco in the background
Kiki added: "I really love the Soda Stereo song 'En la Ciudad de la Furia' ('In the City of Fury'), so I decided to create a fusion between nature and the city with a wild side to it."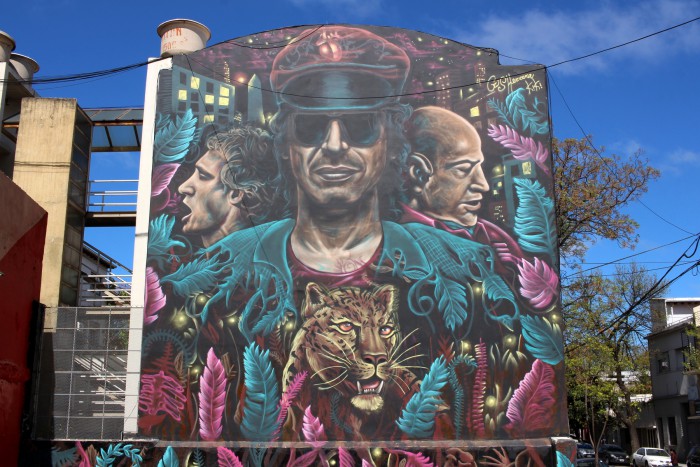 Urban jungle
The mural has helped transform a public square in Chacarita
Tribute to the band
September 4th this month marked the third anniversary of the death of Cerati at the age of 55, after he suffered a stroke four years earlier in Caracas, Venezuela, which resulted in a coma.
The new artwork is located on Cespedes and Giribone in Chacarita
Also painted in the new square is a mural by Venezuelan artist Juan Carlos Rincón Lobo dedicated to Argentina and the drink mate.
Photos © BA Street Art