Tigre is hosting its first ever street art festival called Tigre 100 x 100 this week with 100 artists painting 100 walls in the the city and surrounding areas in the Province of Buenos Aires. Artists are painting in three main zones around the river delta until 8th February.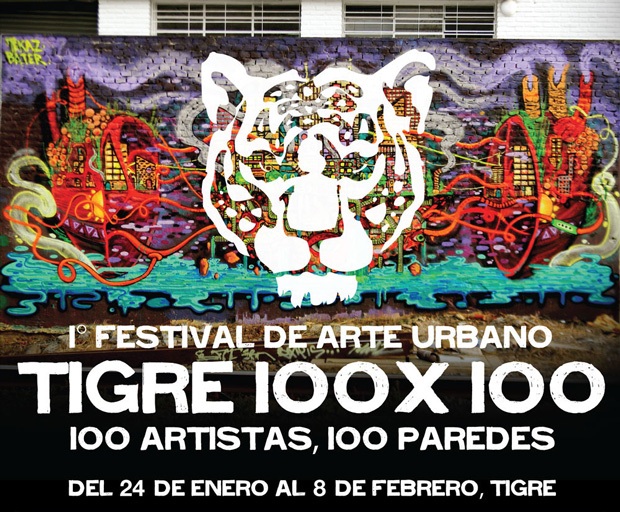 Tigre 100 x 100 festival of urban art
Artists including Madame Berte, Gogogoch, Andy Sautú, ByGermy, Cof, El Marian, Irene Lasivita, La Piby, Mariela Ajras, Mati Quiroga, Nbah, Pablo Calmet, Patzi Mazzoni Alonso, 8A, Sank, Vero Segura, Malegria, Gus Ansaldi, Erica Chun Li, Marcos Bourdetta, Grito, Lacast Stencil, Mat C, Plast, Chaman, JP Boraso, La Triada, Larva and Parbo, Agustin Antonio, Alicia Archiaga, Silvia Corazza, Ameli, David Pineda and Leonardo Rodriguez started painting yesterday in Zone 1 in the centre of Tigre and will be finishing their artworks in the next few days.
100 artists painting 100 walls in Tigre
Work in Zone 2 will start on 30th January until 2nd February in Barrio an José, Talar, Almirante Brown and Ricardo Rojas with artists Blem, Cray, Cuore, Daibo, Elian, Emy Mariani, Fauno, Gone, Jaz, Apste, La Wife, Lean Frizzera, Nanook, Nase, Oshe, Resu, Martin Ron, Nose, Ecos, Koshayuyo, Nao Palack, Natali Zarakin, Psico Naif, Rojo, Seat1, xgaiax, Adios, Santiago Fredes, Tempe, Tester, Fileteadores de Conurbano and DMTS.
And work in Zone 3 from 5th to 8th February at Dique Luján, Benavidez, Villa La Ñata and Nuevo Delta. Artists painting include Bater, Ser, Tazco and Tekaz, Dame, Fede Calandria and Marcos Zerene, Heis, Ice Juli Farfala, Shermen, Lucio Savant, Luxor, Nerf, Acra, Salk, Sato, Brk, Magdomba, Santo, Santiago Fallon, Martin Canal and Rafael Perczyk, Julieta von Stuk, Salazar, Romeo Emanuel Sosa, Pedro Peretti, Elia Galiano, Mariana de Marchi, Emiliano Flores, Luis Martini, Sofia Eugeni, Grupo Arte Libera, Carla Campodonico and Constanza Tassara.
The easiest way to get to Tigre if not by car is by train on the Mitre line that goes from Retiro stopping at stations including Lisandro de la Torre near Las Cañitas in Palermo and Belgrano C.
For more information about Tigre 100×100 check out the Facebook page of Estilo Libre