A group of local street artists have been helping to redecorate a school in Moreno.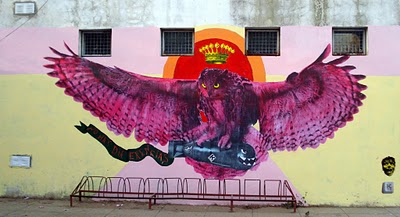 Soloveo Paredes, Roms, Saer, Muke, Surd, Mie2, Meta, Mane, Rama, Astor, Animalito Land, Jakhem, Lu Barr, Gama, Ktrl V, Nos, Amar, Belu and Dis spent a day brightening up Escuela Superior No 19 de Moreno in the Province of Buenos Aires.
The group were invited to paint the walls of the buildings while Ktrl V and Ana Trylourdes were aiming higher than the rest with these paste-ups including a dog on a rooftop water tank.
Playtime
Trunk call
Star Walls