Argentine street artist Alfredo Segatori has been in the U.S.A. and teamed up with Pablo Machioli to paint this new mural featuring a prehistoric man in Baltimore, Maryland. Project was organised by Section1 Project and Buenos Aires Street Art.
The large artwork was created on the wall of a former tire factory in the Woodberry neighborhood of Baltimore along the Jones Falls and took the pair three days to complete.
The building on which the mural was painted was also the venue of the gallery show entitled 'Roots/Raices' curated by Buenos Aires StreetArt, Section1 and Gallery 788 in Baltimore. The exhibition in August has brought together works on canvas by nine Argentine street artists and 15 U.S. street, and the caveman relates to the theme of the exhibition.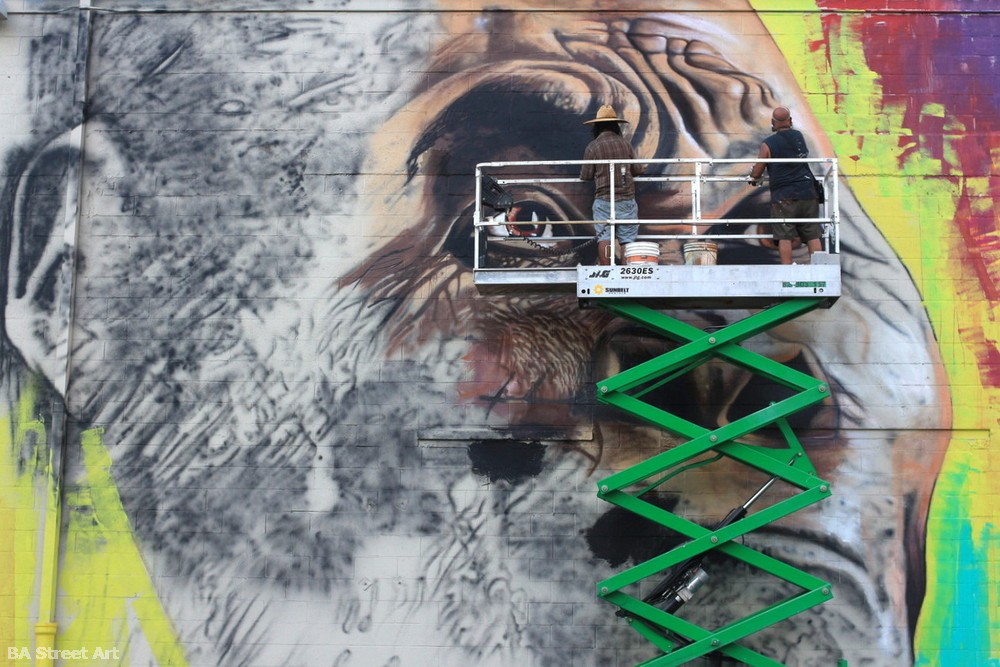 Uruguayan artist Pablo Machioli and Alfredo Segatori

Details of the mouth

Segatori finishing details of the ear
The show 'Roots/Raices' was curated by Richard Best of Section1, a Baltimore-based organization that supports urban art projects, Matt Fox-Tucker, founder of BA Street Art who also travelled to Baltimore for the exhibition and Alex French of Gallery 788.

Pablo Machioli, Richard Best and Alfredo Segatori
You can see photos and find more information about the cultural exchange and exhibition 'Roots/Raices'that includes works by Argentine and Baltimore street artists here and also read the story about it published by The Baltimore Sun
All photos Matt Fox-Tucker/Buenos Aires Street Art