Doel is an abandoned coastal village in Belgium 20 miles north of Antwerp that has become home to world famous street artists and graffiti artists.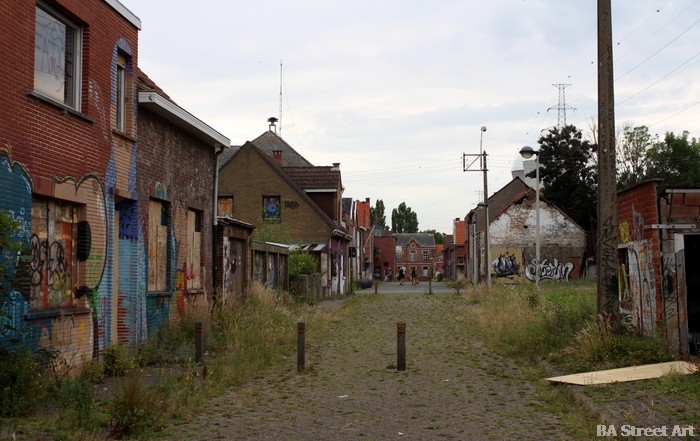 Ghost town – abandoned village of Doel near Antwerp
Most of the inhabitants left before 2000 after they were offered compensation to sell up over plans to turn the 400-year-old village into a new dockyard for the huge port of Antwerp. Some 25 local residents refused to leave their homes and decided to take a stand against the bulldozers.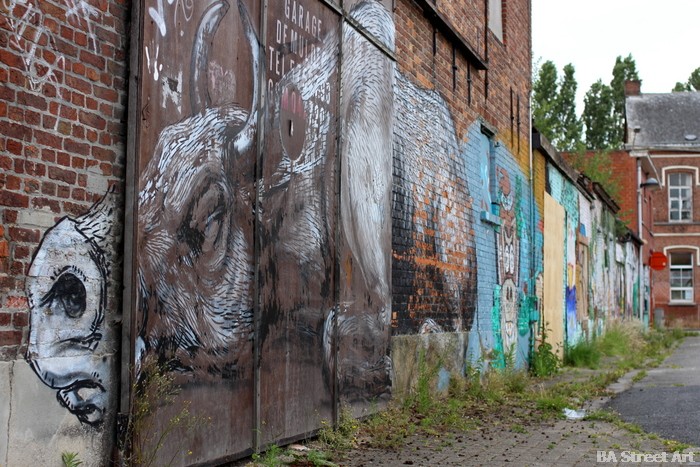 Ox by Roa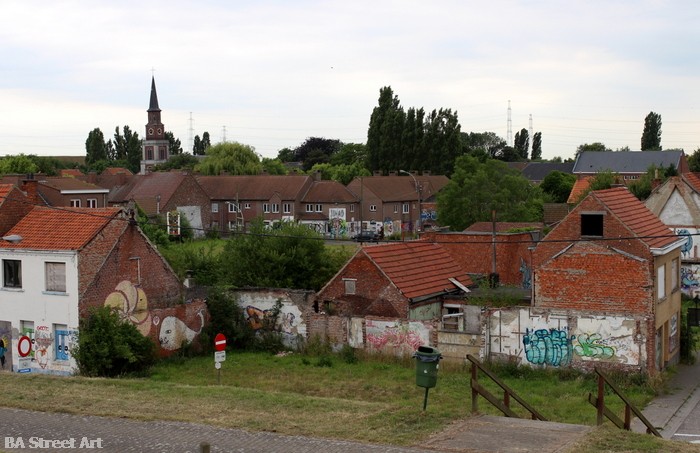 Doel has been abandoned for 15 years
Campaigners are still fighting to ensure the long-term survival of Doel that dates back to the 17th century. The site has now started to attract tourists, street art fans and photographers. The residents hope that Doel's growing reputation as a haven for local and international street artists like Roa will help ensure its survival.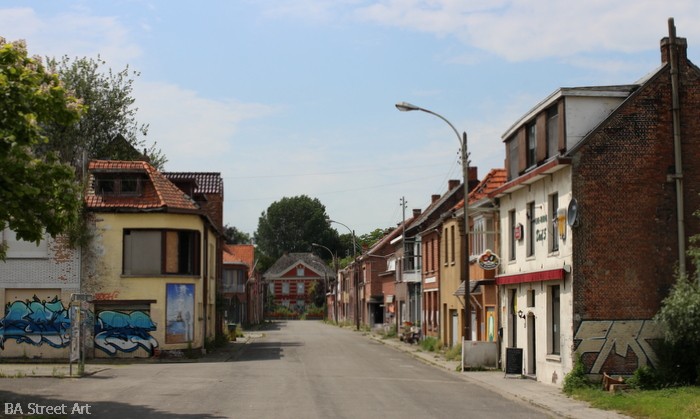 Empty streets with village's only pub
There are no shops to buy groceries, only a local pub with a few chairs outside plus an artists' residence remain. There are no public transport links to the village, the only way to get there is by car or taxi. In the distance are the silhouettes of giant cranes that load shipping containers onto the huge tankers and cargo ships, while smoke bellows out of the cooling towers of a power plant. After dark, the police blockade the main road into the village so traffic cannot enter.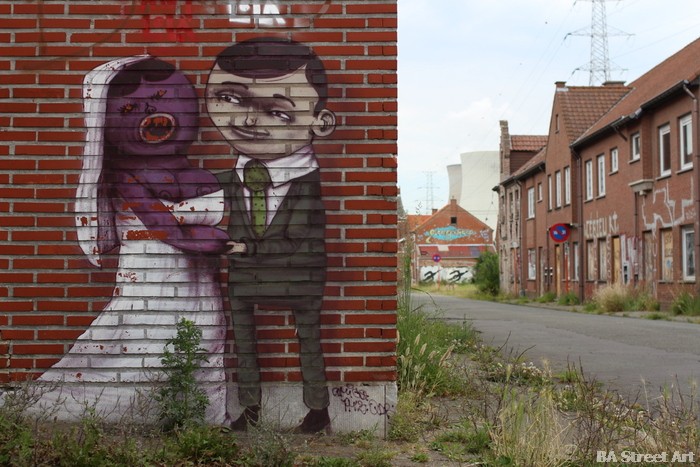 Apocalypse bride
Doel's empty streets make it feel like the location for a zombie movie.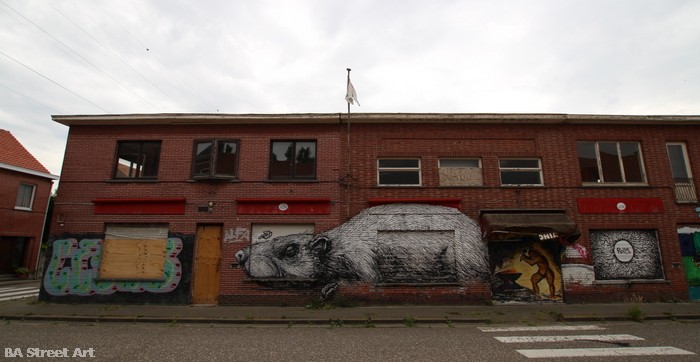 High Street with boarded up buildings and giant rat by Roa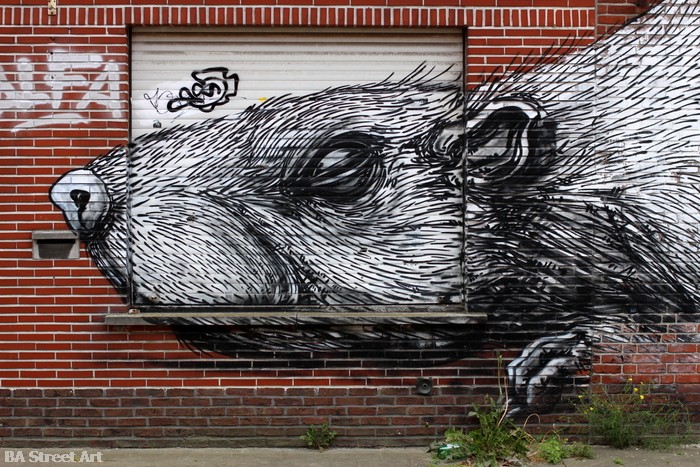 Rat by Roa
Numerous animals by Belgian painter Roa can be found on the brickwork of the knocked down outbuildings, barns and shells of boarded-up houses.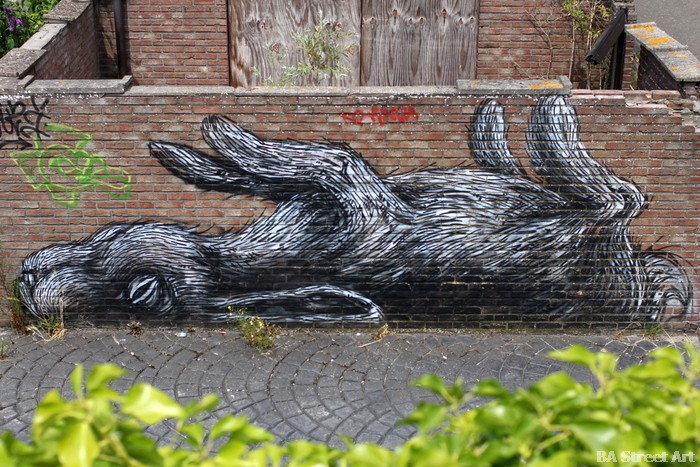 Rabbit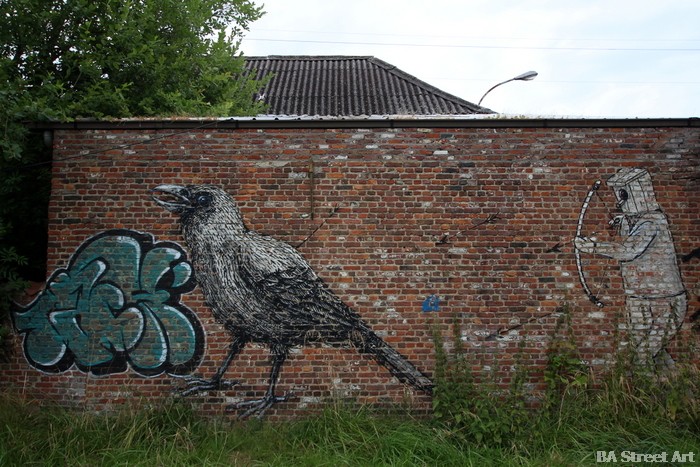 Crow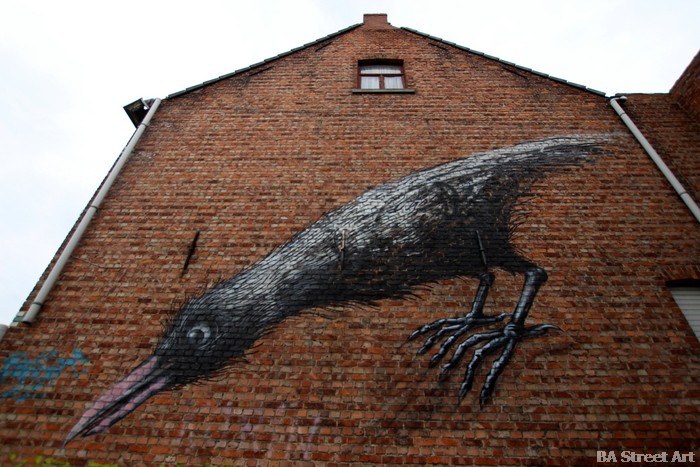 House with another bird by Roa
Roa with HDA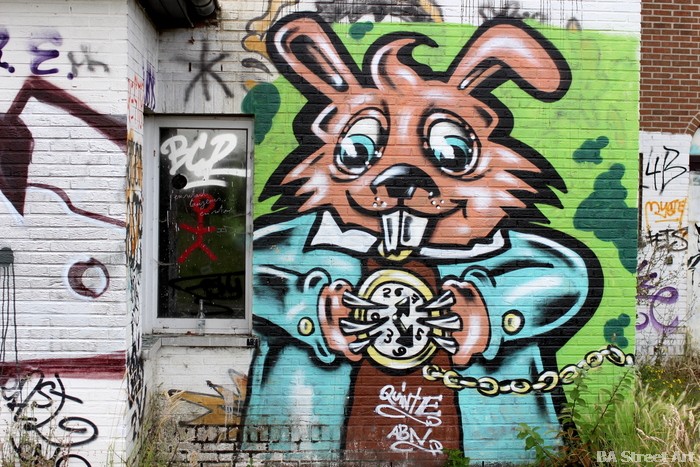 Timepiece
Cartoon characters decorate the walls of a few cul-de-sacs. Stencils, tags and throw-ups can be found on nearly every building.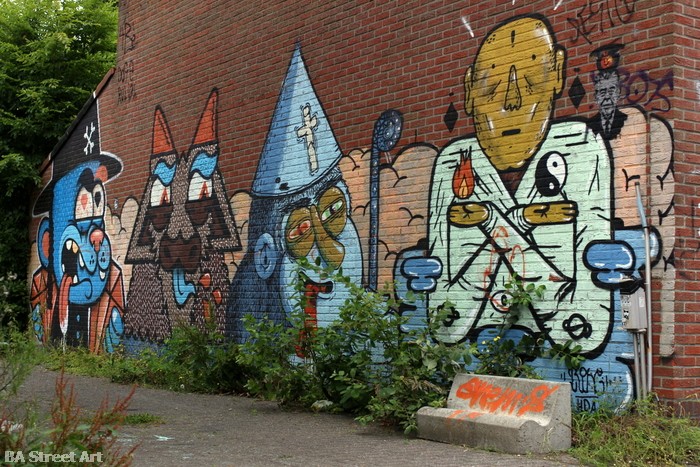 Artworks by Belgian street artists Resto and Bue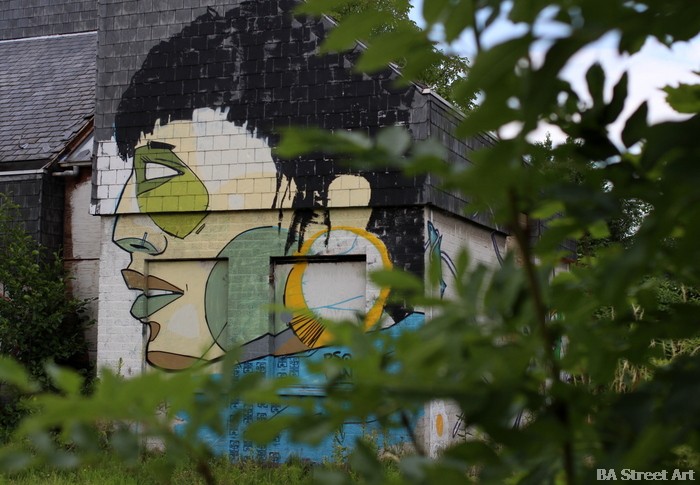 Portrait by Psoman
All that is left of the small community are quiet streets lined with an abandoned buildings such as a school, a church, a petrol station, dozens of vacant houses, shops and buildings with broken and boarded-up windows and doors with their walls and interiors covered with graffiti and murals.
Remains of a petrol station
Empty house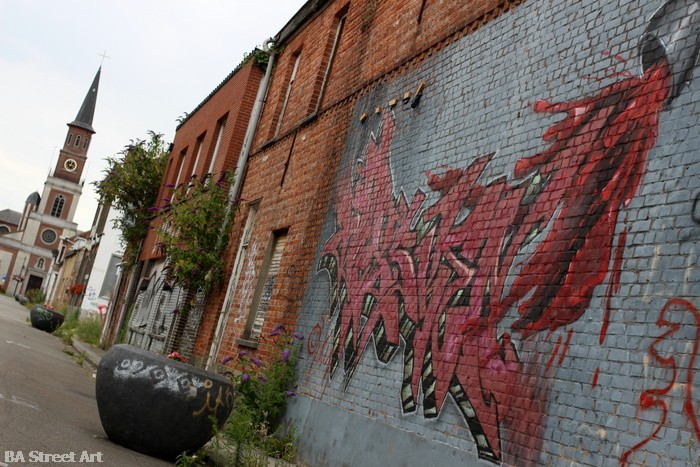 Village church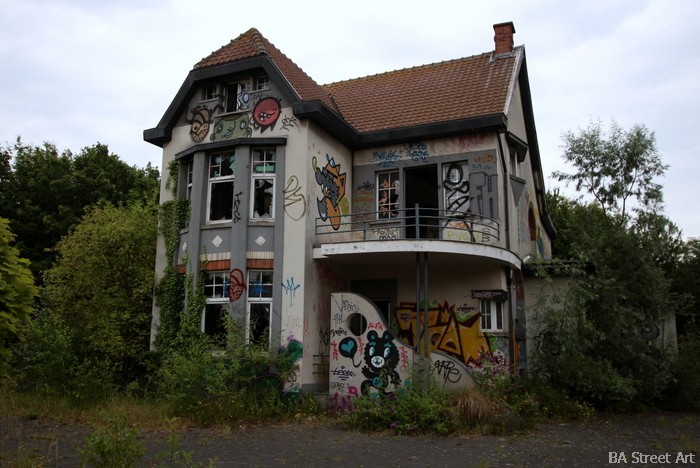 Abandoned house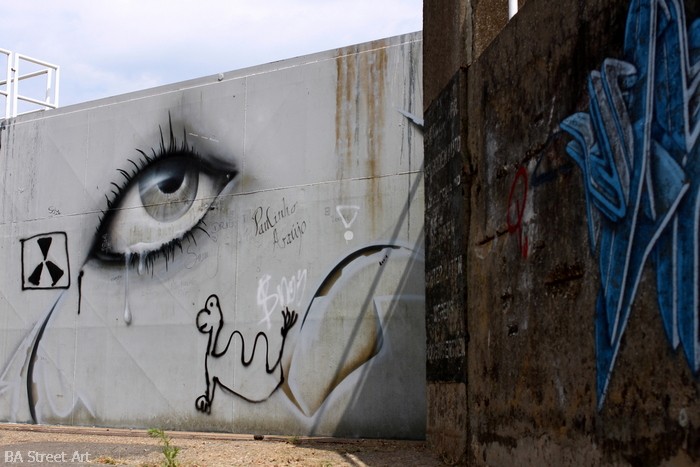 Artwork by ADT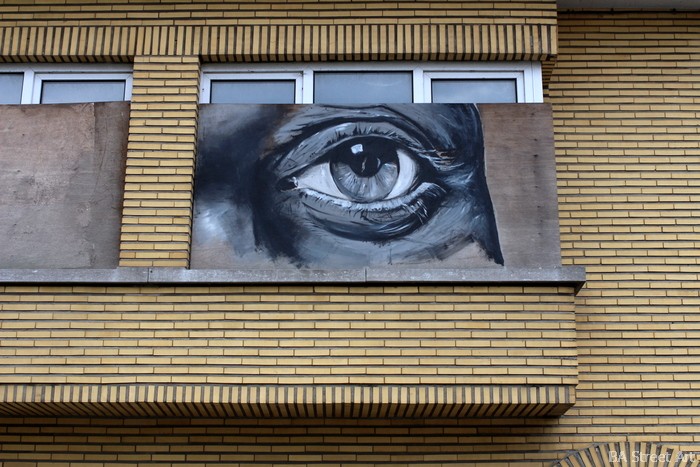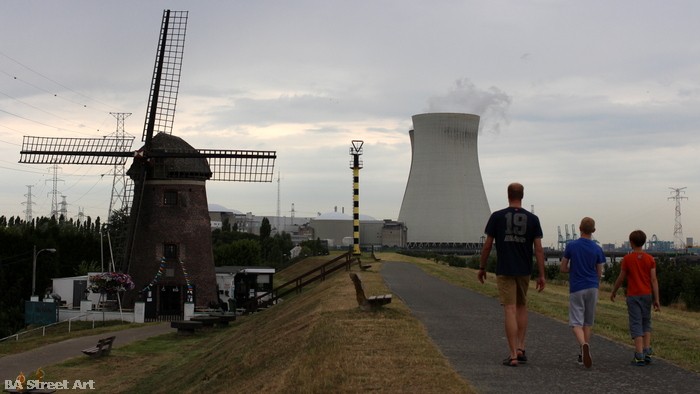 Outskirts of Doel
A picturesque windmill stands just outside the village. It is now a bar that opens at weekends for visitors who come by car to visit this one picturesque costal resort. And there is also a 17th-century house that once belonged to painter Peter Paul Ruben's family.
All photos © Buenos Aires Street Art