Banksy graffiti stencils including some of his most iconic images of the Flower Thrower, Girl with Balloon, Mona Lisa with a grenade launcher, and chimpanzee with a sandwich board can be found all over Buenos Aires.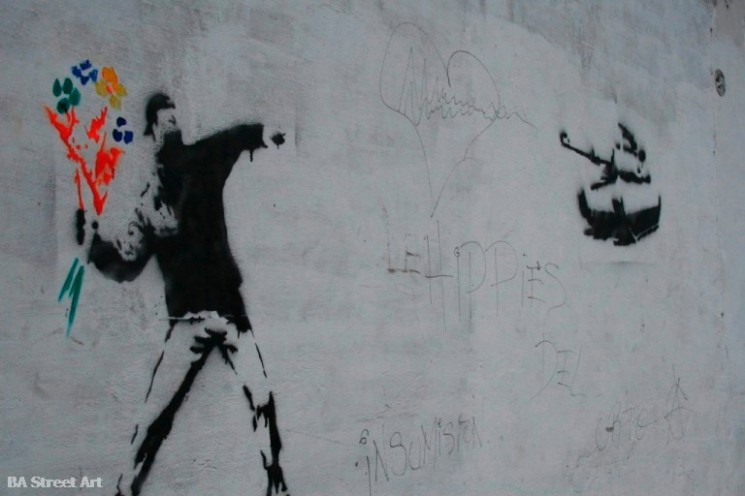 Banksy's Flower Thrower in Chacarita, Buenos Aires
"No I'm afraid these are not Banky's stencils they are poor copycats," Banksy's spokesman at Pest Control Office told us. "Banksy has not been to Buenos Aires so you won't find any of his pieces there." Nevertheless you can find many reproductions of Banksy's most famous designs all over the city.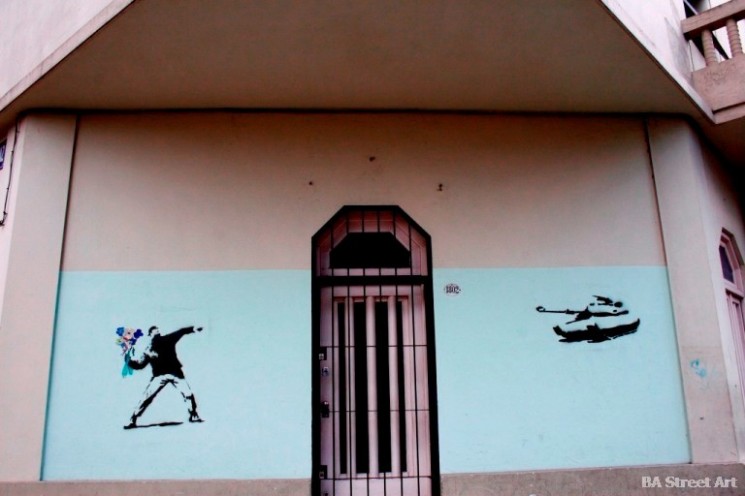 Anti-war protest: house decorated with Banksy's Flower Thrower
Soledad Galliani and Ernesto Kirstein decorated the front of their house in La Paternal with a copy of Banksy's Flower Thrower and they also painted another similar design in Chacarita. Soledad told Buenos Aires Street Art that the design was a protest against George W. Bush's visit to Mar del Plata for a trade summit in December 2005. She said: "We saw the design on a T-shirt and thought it was really cool but more importantly we wanted to tell Bush that he is not welcome in Argentina and we are against  the war in Iraq."
Banksy copy in Once (left) and Banksy original stencil
Banksy's stencils of chimpanzees with sandwich boards reading "Laugh now but one day we'll be in charge", "Lying to the police is never wrong" and "Keep it real" have been painted in London and Glasgow in the U.K. and are one of his best known images. A series of 'Laugh now' monkeys commissioned by a nightclub in Brighton, England, was sold at auction for £228,000 in 2008.
Banksy Mona Lisa with grenade launcher copy (left)
Banksy's orginal stencils of the Mona Lisa holding a grenade launcher have appeared in several locations around London. This copy (above left) can be found in Parque Chacabuco.

Banksy girl with balloon copy (left)
Banksy's Balloon Girl who lets go of a heart shaped balloon once appeared in several locations around London but they have all since been buffed. One unnamed artist painted a version of Banksy's classic stencil in Colegiales in September 2011.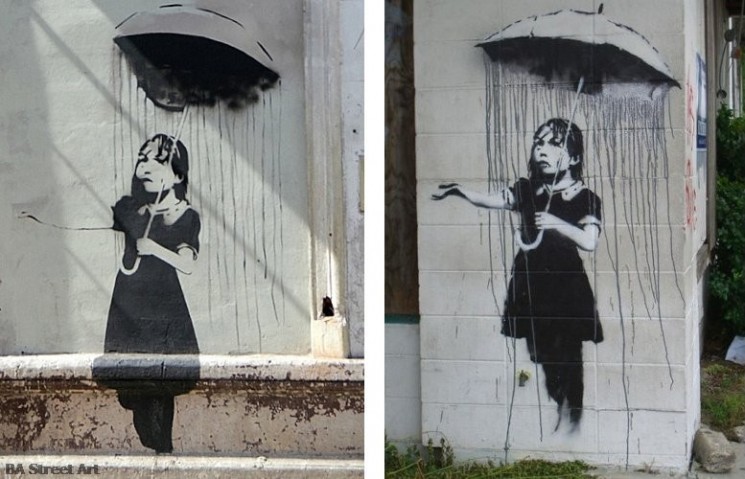 Banksy's original umbrella girl in New Orleans (right) and copy in San Telmo (left)
BA Street Art published exclusive photos of an abandoned house in San Telmo with Banksy stencils  a few months ago. The Banky copycat stencils include 'Rain Girl' (above)  orginally painted in New Orleans shortly after Hurracaine Katrina in 2008, 'Paint Roller Man' which was a swipe against an anti-graffiti campaigner in the city named the Grey Ghost

Copies of panda with guns by Banksy in Buenos Aires
Another classic Banksy stencil is that of a Panda with guns. These copycats stencils of Banksy's gun-toting panda were photographed on walls in San Nicolas and Caballito.

Yellow peril: dog urinating in La Plata (left) and Banksy original (right)
Banksy painted numerous stencils in Los Angeles in February 2011 including a dog urinating a yellow line up a wall in Beverley Hills. A stencil of a yellow dog in a very similar pose can be found in La Plata, the capital of the Province of Buenos Aires. Let us know if you have seen or photographed any Banksy stencils. Email us at buenosairesstreetart@gmail.com.